Beating out four other finalists, Kuala Lumpur Convention Centre (KLCC) won the very first ICCA Best PR Award at the ICCA Congress in Shanghai, China this month.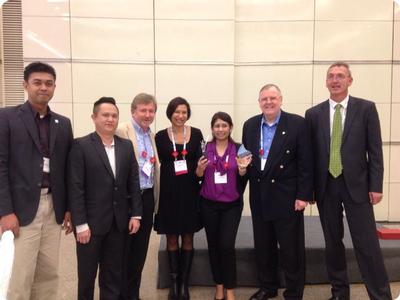 "The measurement methodology, combined with consistent creativity won the day for KLCC. Year on year, KLCC has always been strong on the creative front, but their evaluation processes and measurement of ROI was hard-nosed and scientific, impressing all the judges across the board," said Martin Lewis, chairman of the Editorial Advisory Board, International Meetings Review (IMR), the sponsor of the Award.
Recognizing exceptional PR performance by ICCA members, the ICCA Best PR Award finalists included Amsterdam RAI, Glasgow City Marketing Bureau, Seoul Tourism Organisation and Wonderful Copenhagen Convention Bureau.
"We have long believed that PR is one of the most cost-effective yet under-utilized elements in the marketing mix. Our aim is to help ICCA members gain the best possible editorial coverage. We are sure that our partnership with IMR on this new award and the PR tools that we offer to our members will help to dramatically improve ICCA member's PR performance," said Martin Sirk, CEO, ICCA.
Finalists and the winner receive worldwide acknowledgement and profiling via ICCA and IMR, and they have the opportunity give a short presentation on their PR strategy and campaigns in a dedicated Media and PR session at the ICCA Congress.
"KLCC is honored to receive the inaugural ICCA PR Award, and we congratulate all finalists. This accolade is dedicated to the KLCC team and our support agency who in every way make up part of the story that culminates in this award, and we hope that by sharing our approach at the Media & PR session here at the Congress, we can offer informative and valuable insights that can be helpful learning tips to our industry counterparts," said Peter Brokenshire, general manager, Kuala Lumpur Convention Centre.
Judges consisted of Martin Lewis; James Latham, executive producer of International Meetings Review; Roger Kellerman of Meetings International; and Mathijs Vleeming, manager of marketing and PR at ICCA.
See related article: Five shortlisted to win ICCA's 'Best PR Award'.