Temperatures are dropping, leaves are turning and the convention halls are bustling in Las Vegas this fall.
Whether you're interested in the latest-and-greatest models of cars, cribs or candy bars, Las Vegas will play host to conventions and tradeshow s to suit a variety of tastes this fall. The destination hosts a full calendar of events in the coming months, attracting more than 296,000 visitors and pumping more than $250 million into the local economy.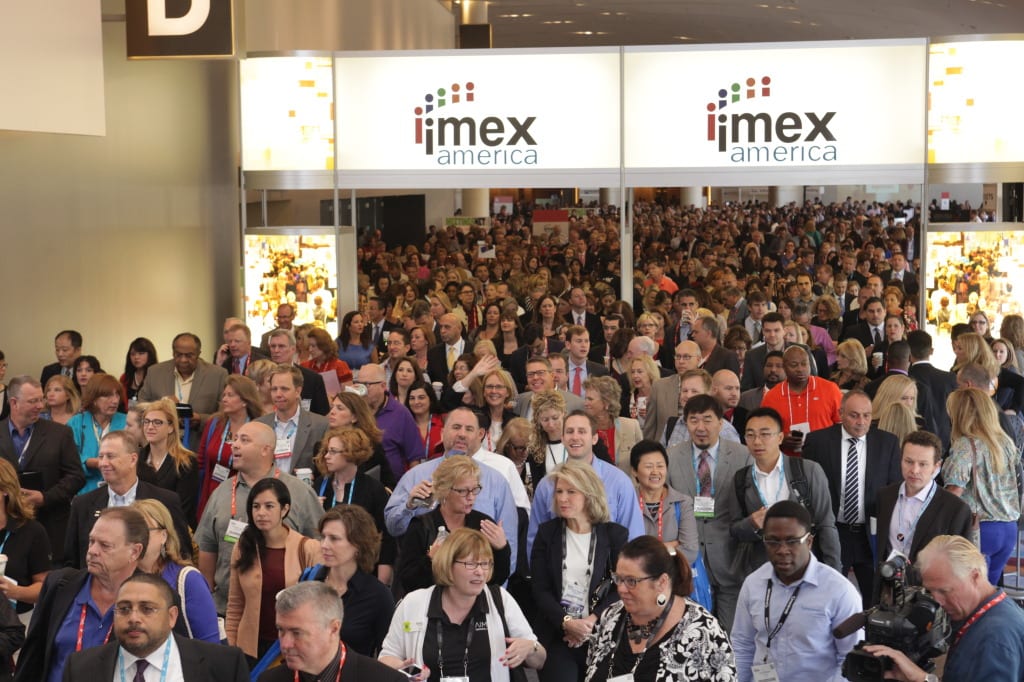 "As the No. 1 tradeshow destination for 21 years hosting 22,000 meetings and conventions annually, Las Vegas has proven itself to be versatile, and our meeting venues are unmatched in their ability to cater to each client's unique needs," said Rossi Ralenkotter, president/CEO, Las Vegas Convention and Visitors Authority. "Las Vegas is a one-of-a-kind destination and always up to the challenge of creating an event that's just as memorable as our city."
If you want to feel like a kid in a candy store, the 2015 National Association of Convenience Stores Show (NACS 2015) is a must-see event for industry professionals. NACS 2015 provides access to thousands of the latest products and services convenience stores use every day including fuel equipment and services, merchandise, food equipment, candy and snacks. NACS is expected to draw 30,000 attendees to the Las Vegas Convention Center (LVCC) Oct. 12-14, generating more than $25 million in direct visitor spending.
The baby and juvenile industry is a billion-dollar business, and it's bringing thousands of visitors to Las Vegas in Oct.. The LVCC will open its doors to the 13th annual ABC Kids Expo 2015 Oct. 18-21. The expo will occupy about one million square feet of exhibit space, attracting an estimated 14,000 people from all over the world to see manufacturers unveil the latest and greatest new products. This event is expected to bring more than 11 million in direct visitor spending.
Pump the brakes and pull out your business cards. Las Vegas is gearing up to welcome several transportation-related conventions and events that are sure to attract attention for the destination.
An estimated 140,000 visitors are expected to race to Las Vegas Nov. 3-6 during Automotive Aftermarket Industry Week (AAIW).
The event features the always-popular Specialty Equipment Market Association (SEMA) which brings the industry's top products and experts from all over the world to Las Vegas. AAIW also includes the Automotive Aftermarket Products Expo (AAPEX) at the Sands Expo and Convention Center, exhibiting more than 2,200 manufacturers and suppliers showcasing innovative products, services and technologies within the automotive world to more than 39,000 targeted buyers. These events are expected to inject a total of $118 million into the local economy.
National Business Aviation Association 2015 (NBAA) takes flight Nov.17-19 and will feature more than 1,100 exhibits and 100 aircraft on static display at the LVCC. Twenty-five thousand people are expected to attend NBAA, which is considered the premier business aviation event of the year for aircraft owners, operators and industry leaders. This event is expected to generate more than $21 million in direct visitor spending.
Additional meetings and conventions attracting thousands of business delegates to Las Vegas this fall include:
IMEX America 2015 – Oct. 13-15 at Sands Expo and Convention Center- 10,000 attendees
International Spa Association (ISPA) Conference and Expo 2015 – Oct. 19-21 at Mandalay Bay Convention Center – 5,000 attendees
ISSA/INTERCLEAN North America 2015 – Oct. 21-23 at LVCC- 18,000 attendees
Live Design International 2015 – Oct. 23- 25 at Las Vegas Convention Center- 14,000 attendees
American Academy of Ophthalmology Annual Meeting – Nov. 14-17 at Sands Expo and Convention Center- 25,000 attendees
Power-Gen International Conference 2015 – Dec. 8-10 at LVCC- 20,000 attendees
The meetings and convention industry continues to be crucial to Southern Nevada's economy supporting more than 54,000 jobs in the area and contributing more than $7.4 billion to the local community.