New design, innovation and technology in lighting were showcased throughout the floor of more than 500 exhibitors during Lightfair International 2014 at the Las Vegas Convention Center on June 1-5.
Representatives of these companies touted the latest and greatest of what their products had to offer, and the source of the matter often was LED and OLED based.
"LED is not as cost prohibitive as it was," said Todd Sussman, corporate creative director, Derse.
"Plus, there are a whole lot of green initiatives and they are much more efficient."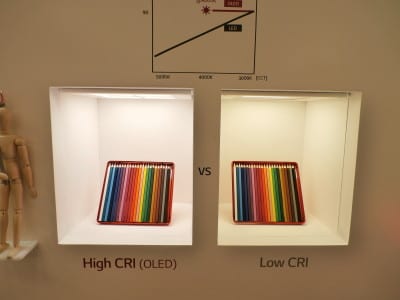 Sussman added that the benefits of using LED in booth design significantly outweigh the traditional halogen or fluorescent lighting.
"We can use them more than before, and with the control of the color spectrum, it really works well when you can change the color temperature to warm or cool," he said.
Decisions on what type of lighting to use in an exhibit are often based on the product itself and what the company's goals are in what they want the audience to see.
For example, Sussman said, photography elements need white lighting, whereas a grocery or department store may choose several different color temperatures throughout the different departments.
"We look at the products as far as the overall feeling they need to accomplish and what will enhance the products, because they are the star of the show," Sussman said.
LED can be used not only to highlight specific products by direct or indirect lighting, it can also be used in creative capacities, such as replacing traditional hanging signs with brilliantly lit LED signs.
Paulin Tham, vice president of marketing and operations, JESCO Lighting Group, stated the company chose to have its sign lighted at LFI with crisp white LEDs to grab the attention of attendees far away as well as up close. The lighted sign paralleled the modern look goal the company aimed for.
"I would say we are getting to a more modern trend," Tham said of overall tradeshow lighting design. "We're moving toward white and clean as opposed to clutter in small spaces.
"These larger, more open spaces that have more of a hospitality approach where people feel comfortable meeting can leave a more lasting impression. It's more of a European approach."
Dark surfaces, Tham continued, have a tendency to absorb light, whereas white surfaces portray true color and reflect more brilliant.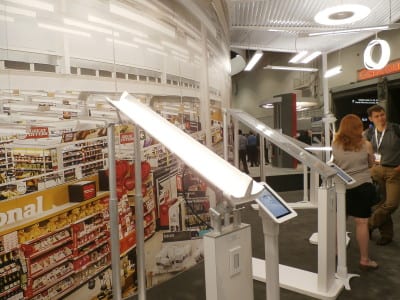 "The trend in U.S. booths is evolving toward the European idea that attraction is everything, and light can be very attention-grabbing," Tham said.
Certain tradeshows call for lighting to be more indirect, as to not steal the attention from the product, where others go all out for dramatic effect.
"From a theatrical lighting standpoint, at shows like E3, for example, it's way high up on the list," said Andrew Clark, corporate environments designer, Derse. "Exhibit lighting, whether it's the overhead truss theatrical lighting or built into the hardware of the booth, it's all over the spectrum."
Designers are tasked to identify whether a company needs direct, aesthetically pleasing lighting to fit into the architecture of the booth, or indirect backlighting to accentuate other architectural techniques, such as shelving, flooring or other display elements.
Companies often see lighting, however, as an unnecessary expense, and it is oftentimes one of the first things to be downgraded when looking at cost-saving measures.
"If we want them to be aesthetically pleasing for what's going to be in the design, that's when we start thinking about higher end quality," Sussman said. "When we're backlighting, those are things we're going to be more cost conscious of."
Although the core themes at major lighting shows such as LFI and the Guangzhou Lighting Exhibition embrace LED integration and sustainability as the now of exhibit and tradeshow lighting, all show managers may not yet be convinced.
"There's a lot of people out there who don't know enough about lighting and what it can do," said Andrew Scamporino, vice president, Reggiani Lighting USA. "There needs to be more education out there about what it can really do."
Car shows are an example of an industry that has embraced the concept of architectural lighting to make the light on vehicles perfect for a show setting.
"With Mazda and other shows, lighting on the vehicle is one of the most important things," Sussman said. "They want to put that vehicle in the most beautiful light they possibly can, so they'll buy a ton of trusses for specific lighting on those vehicles.
"It's not just general lighting, it's very specific lighting."
The future of tradeshow lighting may lie in the technology, as LED has been the fastest advancing lighting trend in history, and it continues to rapidly change.
"I've been in the lighting industry for 28 years," said Christian Bollrath, president, Hera Lighting LP. "If you think back, you have the light bulb for 150 years, fluorescent for 50 and halogen for 25. Now you're looking at LEDs, and the technology has advanced significantly over the last five years – no other trend has done that."