by Ray Smith
The revolutionary LEDskin from beMatrix was featured among the company's lineup of game-changing products at the Experiential Marketing Summit, held May 14-16 at Caesars Palace in Las Vegas.
EMS 2019 brought a year's worth of insight on the ultimate marketing discipline—experiential marketing—as more than 1,800 marketers from around the world converged on the three-day conference. Some of the brightest experiential marketing minds came from companies such as Pepsi, Uber, General Mills, Under Armour, Samsung and General Motors. They made predictions and dissected emerging trends, explained best practices and shared case studies.
Experiential marketing gets customers involved in a brand, product or service, says beMatrix Marketing Manager Scott Barker. "It lets the customer taste, touch and interact with the product in a positive, emotional way, building loyalty for the product and the brand," he explains.
Innovation continues at beMatrix, which has taken products that make it easier to build exhibits and made them even better. LEDskin technology enables quick combination of LED cabinets and frames to create the high-definition video wall of the future. Video components can be easily integrated into a beMatrix stand to avoid separate display screens, which often disrupt sleek stand designs.
"It was and continues to be the talk of the industry," says Barker. "Video content is a key component in experiential marketing and as more players get involved in the market, we need to continue to innovate our product line to stay ahead of the crowd."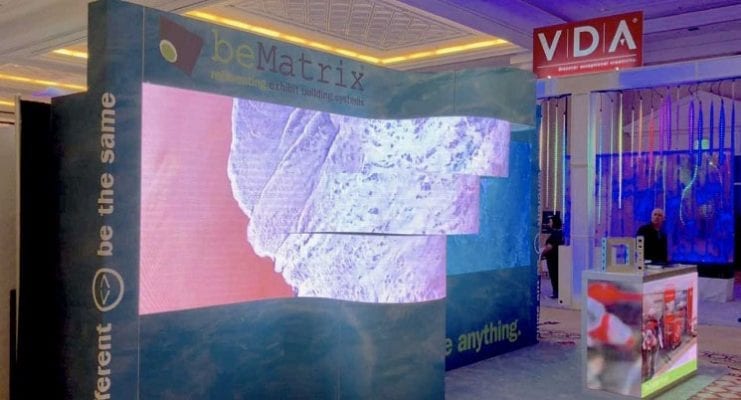 beMatrix launched three new corner posts that allow for quick SEG fabric application and corner post-to-frame connection. The corner posts are also compatible with new SEG end textile squares. The company's new angled corner posts provide options beyond straight and curved profiles for corner solutions, giving the ability to finish frames at a certain angle.
beMatrix will also have a strong presence at InfoComm 2019, June 12-14 in Orlando, Fla., again showing its LEDskin, video integration and other innovations that continue to reinvent exhibit, event, retail and experiential space.
"For beMatrix, it's all about our ability to provide complete solutions that integrate seamlessly, whether it be a wall, ceiling, floor, lightbox, MotionSkin or LEDskin," Barker adds. "Since InfoComm is primarily an AV show, we will lead with our LEDskin and dynamic content. For us, it's another great market for our products."
From June 23-26, beMatrix will be exhibiting at ESCA 2019 in Santa Fe, N.M. The Summer Educational Conference offers great programs to learn the best trends in the exhibit industry, along with networking opportunities and panel discussions.
beMatrix, headquartered in Roeselare, Belgium, with production facilities in Roeselare, Norcross, Georiga, and Hangzhou, China, and sales and distribution offices in 61 countries, manufactures a reusable frame system for the exhibit builder, general contractor and event producer industries. The same aluminum frame accepts both hard panel and fabric infills. Combining its new 360° Design initiative and Tooless approach, the system is recognized for its quick and easy construction of walls, ceilings and doors. For more info, visit www.beMatrix.us.