by Kerstan Szczepanski, Exhibit City News
To say the tradeshow industry is in the midst of a tech revolution would be an understatement. The technology available to exhibitors to provide memorable experiences for tradeshow attendees is not only remarkable, but ever-changing. Exhibit City News talked with two experiential design agencies, Creative Technology and 900 Lbs, to discuss the miraculous world of immersive technology.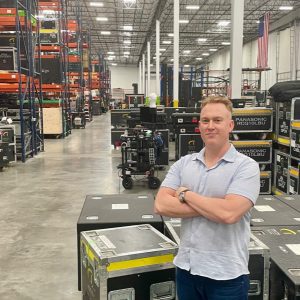 "Immersive technologies create a sense of immersion of presence, allowing users to feel as if they are physically present in a digital or virtual environment," says Brandon Smith, Senior Business Development at Creative Technology, which provides technology, technical management, production support and engineering to the global live events and systems integration markets. "These technologies engage multiple senses such as sight and sound, surrounding the attendee while transporting them 'inside' the design. They typically include video elements driven by media servers and displayed on LED screens and/or projection-mapped surfaces. Lighting and audio elements help to enhance the dimensional space providing visual and auditory cues for the attendee. Virtual, Augmented and Mixed Reality elements can also add to the immersive environment experience."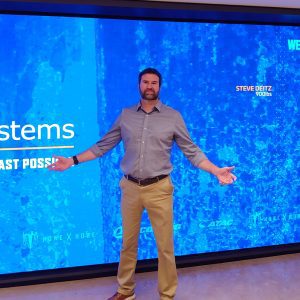 Steve Deitz, founder of Dallas based 900lbs, says "When people think of immersive tech, they may think of being 'surrounded' by something. That is certainly true. However, we can go much further than being surrounded by digital content in a space or being in the middle of a virtual world. 4D multi-sensory elements (like wind, fog, smell, etc) can help our audience 'feel' the experience. With audio design, directional sound can take an experience to the next level." The 14 year CEO continues, "We can have the content or interactivity react to the movements of the user or audience. We can personalize the space and we can customize the content. With AR or VR (XR), we can use our phones, iPads or passthrough headsets as spatial computing windows adding more dimensions and more layers of digital content that extend the real world. There are so many opportunities to scale the immersiveness of an experience."
Using the latest innovations is key to the immersive experience. The cutting edge is razor sharp, and staying on top of those innovations is critical to success.
"From a hardware perspective, technology is our tool, it is our ever-evolving canvas," comments Deitz. "The resolution and brightness continues to scale. The pixel pitch of displays continues to get tighter. Transparent OLEDs are more cost effective and much more durable than they used to be. VR headsets have so many depth cameras, sensors, lidar scanners, IR cameras, etc." Deitz enthuses, "Eye tracking is so precise that we no longer need controllers to interact. Rather than simply telling our audience a story, we have the ability to put our audience IN the story. We can take them on a journey through a story and they can choose their own adventure. Whether it be physical, spatial, digital or 'phygital….' " 
Phygital? Has the tech moved so far forward the industry needs a new term? Quite possible.
But tech isn't the whole story. How the tech inspires creativity in its users makes a difference. Says Smith, "Storytelling takes on a new level of importance as designers have more powerful tools to tell their story and create the journey. A car becomes a central prop to an aspirational road trip vignette that plays out for visitors in real-time. User feedback customizes a product journey with specific use cases that resonate for the visitor. A single piece of art expands to envelope and surround the guest while music and lighting create the dynamic story behind the artist's intention." With 20 plus years of experience as a technical production veteran in the world of exhibits and live events, Smith's passion for the latest technological trends is undeniable.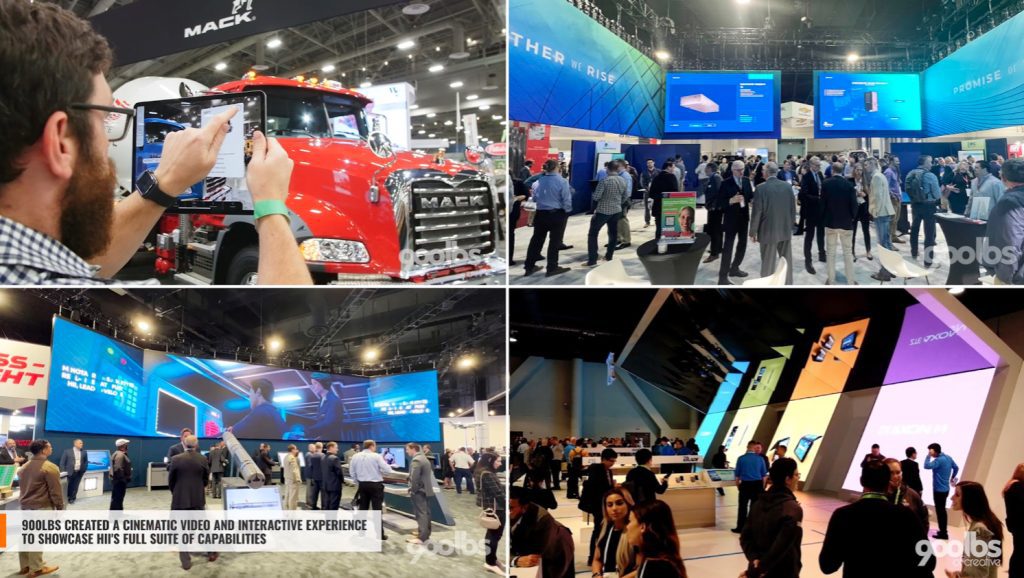 And attendee experience isn't all that is affected. The newest tech makes plenty of work easier. "A trend that we've been focusing on is real-time rendering for animated and interactive content. This is a solution for high-quality visual content that doesn't require long render times," Deitz mentions. "By using this pipeline, content development is more agile, allowing for changes to the scene without the added render-time. For Image Target and SLAM tracking based experiences in augmented reality, we have seen a lot more focus on utilizing WebAR." Exhibitors aren't the only ones who have it easier. "Since it is a web hosted platform," Deitz says, "users do not have to download an app to use these experiences. This helps remove a large barrier of entry for the user and makes these experiences more accessible. This, in turn, allows us to bring products to life in our audiences' physical environment."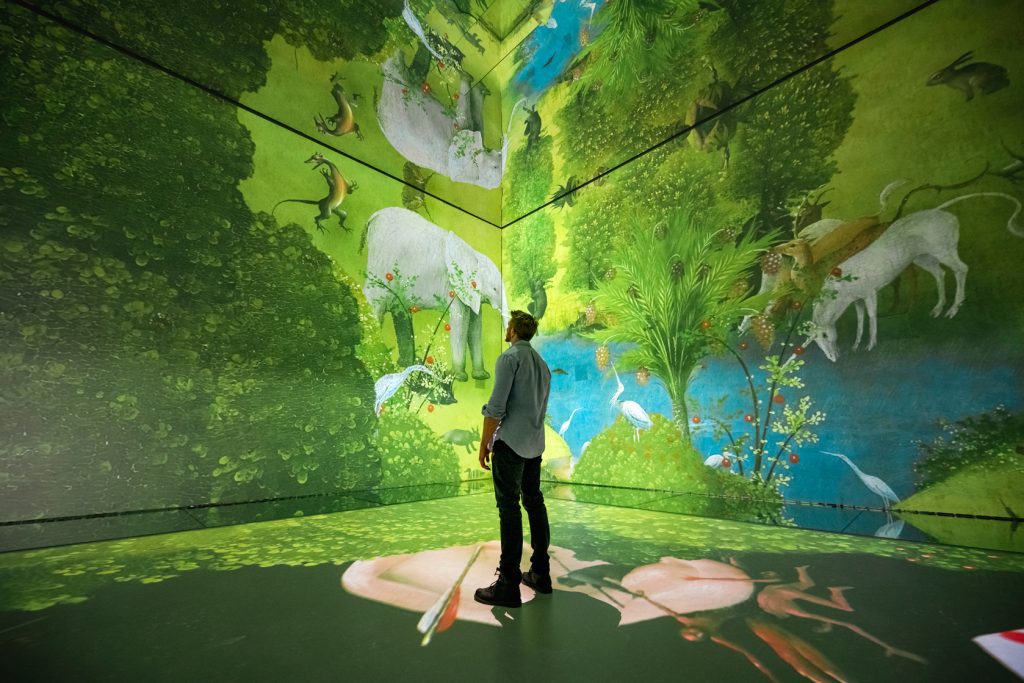 So what is the latest in amazing tech at Creative Technology? "Displaying visual content in new creative ways," says Smith. "This can involve hi-powered media server control for unique video projection mapping designs as well as creative physical designs using LED panels in differing shapes (triangles, round edges, etc.) and panels on curves (concave and convex).  There are also a number of newer LED products available in varying resolutions, sizes, shapes and designs that allow for combining different LED tools to create the desired effect." It isn't just visual effects either. "The world of audio also has some promising new technology for controlling and creating immersive audio. We have been working with our friends at (German audio manufacturer) HOLOPLOT to showcase their 3D audio beam focusing technology. This allows for precise shaping and steering of audio beams creating realistic and deeply immersive soundscapes." Find out more HERE .
For 900lbs, Deitz focuses on their approach to design. "When it comes to technology, 900lbs is tool agnostic. We dedicate a lot of time to R&D in order to understand the best ways to utilize emerging tech. We immerse ourselves in our Client's Vision and we complement the use of hardware by focusing on three other primary areas of expertise: 1) Interactive Development – Through technical software development utilizing real-time render engines, we create high fidelity interactive experiences that use a variety of inputs to engage users. 2) Visual Content –  Our technical artists, 3D modelers and motion design animators combine their skills to produce high-quality visual or virtual storytelling 3) Systems Integration – Our deep technical knowledge gives us the ability to create a full experience turn-key or we can collaborate alongside our exhibit booth design partners to focus only on the content or interactive parts of the equation." Learn more HERE .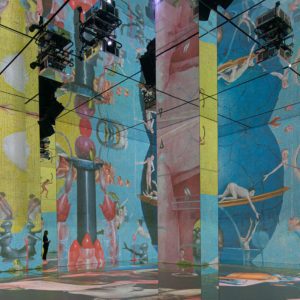 Creative Technology also prizes not just the tech, but the user too. As Smith says, "Technology is merely a tool here to help deliver on a creative vision, and the best results are achieved when collaboration, knowledge and creativity come together." 
"I recently heard a quote that said: 'Good design is intelligence made visible.' " Deitz says. "We can take this further. Good design is intelligence made visual, interactable, scalable, and customizable." His enthusiasm is clear: "It is a really exciting time to be in the experience design space." 
Indeed.