Total attendance at the 2014 Licensing Expo, held June 17-19 at the Mandalay Bay Convention Center in Las Vegas, saw increased numbers from last year, with an uptick in the retail, advertising and sales promotion professionals.
Advanstar Licensing, organizers of Licensing Expo, reported a 33 percent increase in retail attendance and a 27 percent increase in attendance among licensees, advertising and sales promotion professionals.
Featuring 482 exhibiting companies, the show welcomed more than 15,700 licensing professionals, representing a 5 percent increase from 2013. More members of the media were also present, with 120 journalists reported to have worked the show covering news from exhibitors.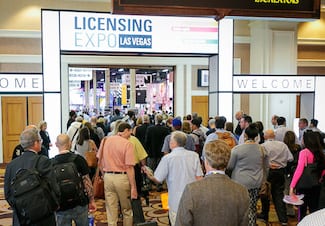 Attendance from retailers saw the biggest boost, with representatives from Target, Kohl's, Amazon, Pottery Barn, J.C. Penney, Old Navy, Claire's, Cost Plus World Market, Best Buy, Forever 21, Walmart and Hot Topic – all meeting with exhibitors.
International retailers were also well represented, including Tesco, H&M, El Palacio de Hierro, Argos, Toys 'R' Us Asia, Liverpool, BHS, Debenhams America, C&A Brasil, Falabella, Soriana and Myer Department Stores.
Sponsored by the International Licensing Industry Merchandisers' Association, the show also saw attendance from China increase by 69 percent and a 38 percent rise in attendees from Japan. Licensing Expo continued to attract people who are the licensing decision-makers within their organization, with 90 percent of attendees holding a key role.
"We focused our marketing efforts for this year's show on bringing more retailers to Licensing Expo, and we're thrilled the hard work paid off," says Jessica Blue, vice president, Licensing Expo. "So much business was being done and the feedback on the quality of the attendees was overwhelmingly positive. The Advanstar Licensing team has already started to build on this success for 2015."
Highlights from the show included the opening keynote address from DreamWorks Animation co-founder and chief executive officer, Jeffrey Katzenberg, the Motorsports Café sponsored by Shell, the Opening Night Party co-hosted by the Country Music Association and sponsored by NFL Players Inc. and LIMA and The Big Interview Q&A session with actress and House of Harlow 1960 creative director Nicole Richie.
More than 70 percent of the 2014 floor space was re-booked for 2015. Licensing Expo 2015 will take place June 9-11, 2015, at the Mandalay Bay Convention Center in Las Vegas.