Licensing Expo, the world's largest and most influential licensing industry event, will welcome new Pavilions and increased representation from countries including Mexico, India, China, Japan and the U.K. Sponsored by the International Licensing Industry Merchandisers' Association (LIMA), Licensing Expo will take place June 9-11 at the Mandalay Bay Convention Center in Las Vegas.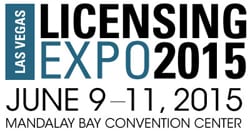 These new exhibitors join a growing list of international companies and featured Pavilions that include Brazil and Korea, with China and Japan significantly expanding their footprint at the 2015 show. Brands from more than 35 countries will be represented on the show floor.
Each Pavilion serves as its own commercial center, offering a full range of licensing activity.
"As the global meeting place for the licensing industry, our international exhibitors are a key focus for Licensing Expo 2015," said Jessica Blue, vice president, Licensing Expo. "In response to a growing demand from our attendees, one third of which are now from outside the U.S., we have increased our international focus and plan to deliver a truly global experience for both exhibitors and attendees."
Representing the U.K. for the first time at Licensing Expo is the British Heritage Pavilion. The new space features exhibits from Imperial War Museums, National Museums of the Royal Navy, The Royal Ballet (The Royal Opera House), The Natural History Museum and the Shakespeare Birthplace Trust.
Complimentary registration for the Expo is available at: www.licensingexpo.com/registerhere