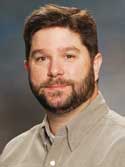 LMG, Inc., a national provider of video, audio and lighting support recently announced that Johnny Vickers has joined LMG as an account executive in the firm's Orlando headquarters. Vickers will handle sales, project management and account coordination for LMG's show technology division.


"Johnny's technical expertise and range of experience will help greatly support our business development efforts for our latest lightweight LED product line," said Les Goldberg, president and CEO of LMG. "He is a welcome addition to LMG's live events team."
Vickers brings over 25 years of experience to LMG, working in account management and operations within the audiovisual rental industry. Vickers has a strong background in high end video and LED rentals for corporate and entertainment clients, and his technical expertise and strong client management skills will be an asset to the show services team.
"After working alongside LMG for years I am honored to be a part of such an outstanding organization, said Vickers. "I have seen the professionalism LMG applies to all aspects of the major events we worked on together over the years and LMG never failed to impress me or our shared clients. The attention to detail and dedication from every member of the LMG family is second to none. With the capabilities of LMG, I can now offer so many solutions and this will continue to grow. "