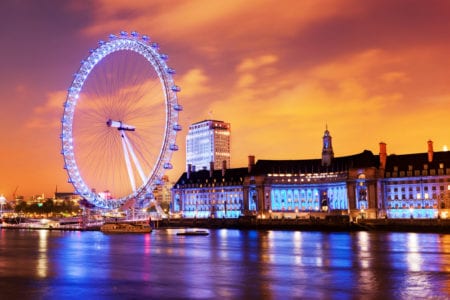 Coca-Cola London Eye lights up in purple to raise awareness of the challenges of dementia
Thousands of delegates from all over the world will arrive in London this weekend for the Alzheimer's Association International Conference 2017.
It is the first time that London will host AAIC, which is the world's largest gathering of the Alzheimer's and dementia research community. More than 5,000 leading Alzheimer's disease and dementia scientists are expected to join the five day congress which will kick off on Sunday, July 16, at ExCeL London. The event is expected to generate over £22m economic benefit for the city.
On Tuesday, July 18, the Coca-Cola London Eye, one of London's most iconic and beloved landmarks, will switch on its 6,000 LED lights to purple, the color of the Alzheimer's Association, to celebrate the Conference taking place in the city and raise awareness of the challenges brought by the disease.
Darren Mendola, senior director, conference services at the Alzheimer's Association, said: "The United Kingdom has demonstrated an unwavering commitment to the Alzheimer's cause, and we're thrilled that London is the gathering place for the world's leading researchers at this year's Alzheimer's Association International Conference. London's world class attractions, public transportation and accessibility and the ExCeL London's cutting edge facility made it the perfect location for this year's event. Thank you to London for providing a setting that will allow the world's leading investigators in this field to share information that could change the course of this disease for millions; we know that research presented at the Alzheimer's Association International Conference in London will have a global impact."
Suzanne Singleton, head of associations at London & Partners, the city's official promotional agency and convention bureau, added: "We're delighted to welcome the Alzheimer's Association International Conference to London for the first time. It's great to see that, working closely with our ambassadors and ExCeL London, we were able to attract yet another high-profile, large-scale medical congress. As well as being the best connected city in the world and offering a range of accommodation options for congress organisers, London is a leading medical research hub and it is key for us to continue to showcase this to international event planners."
James Rees, executive director, ExCeL London, said: "We are excited to be opening the doors of ExCeL London and our International Convention Centre to the Alzheimer's International Conference and look forward to extending a warm welcome to their delegates. In partnership with London, it is our aspiration to host the very best events in the world, with AAIC representing the leading event in its field. This event demonstrates the fantastic partnership between ExCeL, as the host venue, and the city, coming together to deliver a truly world-class event."
AAIC is the latest in a series of high-profile medical congresses which chose London as a host city. Earlier this year, the city and ExCeL London welcomed the European Association of Urology for their annual congress which broke previous records of registrations, with over 12,600 delegates.
The British capital is world-renowned for its expertise in life sciences and is part of MedCity, a cluster of knowledge spanning the South East of England which includes London, Oxford and Cambridge.
More information on hosting events in London can be found on http://conventionbureau.london/
London & Partners is the official promotional company for London. They promote London and attract businesses, events, congresses, students and visitors to the capital. Their aims are to build London's international reputation and to attract investment and visitor spend, which create jobs and growth. London & Partners is a not-for-profit public private partnership, funded by the Mayor of London and its network of commercial partners. For more information visit www.londonandpartners.com.
ExCeL London is the capital's international convention and exhibition center, located in London's Royal Docks. Since opening in November 2000, ExCeL London has hosted more than 4,000 events including trade and consumer exhibitions, conferences, association meetings, product launches, AGMs, gala dinners, award ceremonies, sporting events and religious festivals. More than twenty million people from over 200 different countries have visited ExCeL London, which was acquired by ADNEC, the Abu Dhabi National Exhibitions Company in 2008. For more information, please visit www.excel.london.