by Calanit Atia
The Las Vegas Convention Center West Hall expansion was completed in time for CES in January (which was postponed), but fortunately the Nevada governor says the state will open up to 100 percent capacity as of June 1, just in time for World of Concrete to put it to work.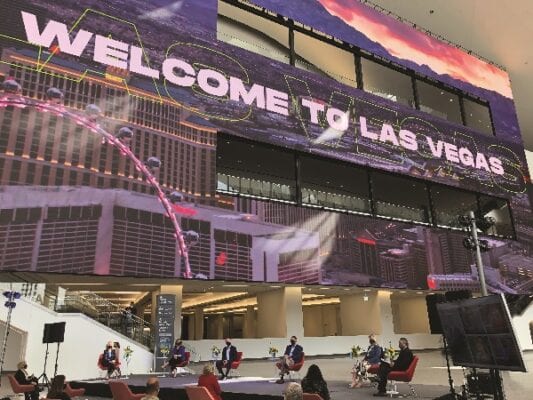 It was exhilarating walking into the new hall's large open-air design with an abundance of natural light in the atrium. A magnificent, large 4.0mm Pixel Pitch LED Samsung video wall, spanning 10,000 square feet, greets everyone, making it the largest digital experience in a U.S. convention center.
The $980 million west hall expansion added 1.4 million square feet, including 600,000 square feet of new leasable exhibit space and a 14,0000-square-foot outdoor terrace able to accommodate receptions with up to 2,000 attendees in the grand atrium. The terrace view of the Las Vegas Strip is truly spectacular, making the experience in Las Vegas more memorable.
The LVCC also features the largest column-free space in North America. The West Hall includes 328,000 square feet of column-free space. The new 600,000-square-foot exhibit hall features power and data from floor boxes, overhead and around the perimeter of the hall, as well as more than 4,000 hang points for rigging light. It also includes 150,000 square feet of meeting room space, equating to 80 additional meeting rooms. One added bonus, which show management will appreciate, are meeting rooms overlooking the entire exhibit hall. And one of them has a window that opens so a camera may take an aerial shot of the show floor.
The 1.4 million-square-foot addition joins the existing 3.2 million-square-foot campus. Finishing touches continue on the Convention Center Loop, an underground tunnel system that will transport meeting attendees throughout the entire campus in all-electric Tesla vehicles, free of charge. The LVCVA also recently acquired the Las Vegas Monorail, preserving this important transportation solution for meeting attendees. Both systems will be operational for events beginning in June and will adhere to strict health and safety protocols.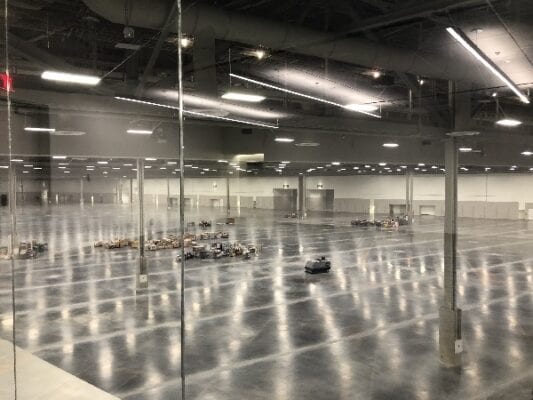 "We're extremely excited to debut the Las Vegas Convention Center's new West Hall and the Convention Center Loop with Informa Markets' World of Concrete in June," says Laurie Clifford, senior director of convention sales for the LVCVA. "This year's Global Meetings Industry Day events were particularly meaningful to us because we were able to offer a sneak peek of the West Hall, as well as the Convention Center Loop project by Elon Musk's The Boring Company, and the response has been amazing. We can't wait to get back to business, and we're encouraged by Gov. Sisolak's confidence in Nevada counties getting to 100 percent capacity by June 1."
The Las Vegas convention industry is getting back to business, and the destination is gearing up to host its first major tradeshow in more than a year, Informa Markets' World of Concrete 2021. This show will mark the debut of the LVCC new West Hall expansion and the innovative Convention Center Loop.
Las Vegas is ready for convention and tradeshows to come back. The excitement is in the air. For more info about Las Vegas as a
business destination, visit VegasMeansBusiness.com.
Calanit Atia is an award-winning event planner and entrepreneur, Air Force Veteran, founder and president of A to Z Events, Las Vegas DMC and entertainment agency, and 2021 MPI advisory board member and speaker. She can be contacted at (702) 212-2500, Info@AtoZevents.com.