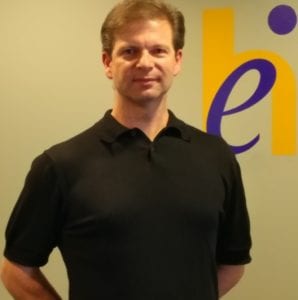 Last March, thousands of trade show and corporate event marketers converged on Las Vegas for EXHIBITORLIVE 2017— four days of power-packed education. The "trade show for trade shows" draws professional marketers from a wide array of industries. If you do not exhibit in your own industry's trade show events, here are some reasons to consider it.
Jeff Naccarato (at right) of Hall-Erickson, Inc., the managing directors of EXHIBITORLIVE, recently spoke with Exhibit City News. Jeff is a trade show industry veteran with a 22-year history of working hands-on with trade show exhibitors, including many who have made the leap as trade show exhibitors for the first time.
Exhibit City News: What is the history of Hall-Erickson, Inc?
Jeff Naccarato: Hall-Erickson Inc. was formed in 1952; Hubbard Erickson Jr. co-founded Hall-Erickson, Inc. with Ruth Hall. They built Hall-Erickson into one of the most respected independent exhibition management companies in the United States, providing a range of management and marketing services to our clients, which include many trade associations and other industry thought-leaders. Mr. Erickson was credited as being a founder of the Trade Show Bureau (now CEIR) and was elected president of the National Association of Exposition Managers (now IAEE). His son and our current President, Peter Erickson, now operate the company. We are proud to manage EXHIBITOR magazine's EXHIBITORLIVE as the educational event for trade show and corporate event marketers. We have also enjoyed long relationships with many other industry-leading organizations like the American Library Association, the National Association of Realtors and the National Mining Association, among others. We currently manage over 20 trade events, most of which feature exhibit hall components and extensive industry education.
ECN: What do companies considering participating in their first show as exhibitors need to know?
JN: Participating in a trade show as an exhibitor for the first time offers a live marketing opportunity to an exhibiting company beyond what they have ever experienced before. They will be under the same roof as thousands of industry buyers, direct competitors and potential partners. It is a relatively short period of time—usually three days—that has the power to change destinies.
ECN: What mistakes do you see first time exhibitors make?
JN: One of the biggest mistakes new exhibiting companies make is taking the "if I show up, they will come" approach to exhibiting. While showing up is an important first step, the most successful trade show exhibitors take ownership in their exhibiting experience and an active role in their own success. They take an integrated approach to marketing and partake in pre-show marketing opportunities like e-mail marketing, advertising, press releases, sponsorships and pre-show mailers. They take advantage of marketing tools made available by the show organizer who has a vested interest in their success. Many of these programs are free. For EXHIBITORLIVE, exhibitors are able to make use of VIP passes, which allow them to invite prospects, customers or distributors to attend the exhibit hall as their complimentary guests. Research indicates trade show attendees are doing more pre-show planning of how they will budget their time on a trade show floor today. It is important to be in their plans before the show.
ECN: What other recommendations do you have for new exhibiting companies?
JN: First, don't go at it alone. Take advantage of the education offered by EXHIBITOR. You will gain invaluable insight from seasoned presenters and by networking with others who have been there. I recommend also that first-timers give themselves time to breath by planning early. Reserving space late is another common mistake first-timers make. Take advantage of early discounted services rates and the ability to select space earlier and to be included in show publications like conference brochures and official show directories. It is not uncommon for significant numbers of the exhibitors of any show to miss being included in something as simple as the official show directory.
ECN: Is it all about space location?
JN: Of course, every exhibiting company wants what they see as the best space placement, but sometimes it's not at all about hall location. The Best of Show Award at EXHIBITORLIVE is a highly-coveted industry award. This year's winner in the small booth category (under 400 sq. ft.) was awarded to a first-time exhibitor who made all the right moves. Their engaging exhibit design was a head-turner and the talk of the show. Their location: a space along the very back perimeter of the show. Just a few years ago the Best of Show Award winner in the large exhibit category was similarly located in the very back corner of show. Exhibitors who take a pro-active, integrated approach will find success in any location.
Calanit Atia is founder and president of A to Z Events, an award winning event planner, a Las Vegas ambassador, social media maven, columnist, Air Force veteran and speaker. She can be contacted at Info@AtoZevents.com, www.AtoZevnets.com, twitter.com/CalanitAtia, facebook.com/calanit, linkedin.com/in/calanit instagram.com/calanitatia.