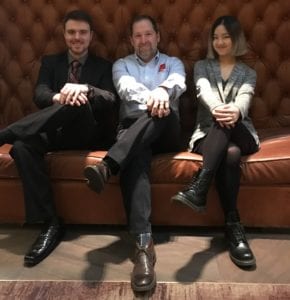 Pictured, Michael Grivas (center) with the two winners, Nicholas Lommen and Qi (Viki) Zheng
Two talented students have been awarded mg's 2017 Exhibit Design Excellence Scholarship which was created in honor of its Founder Michael Grivas Sr., a talented designer, industrious entrepreneur and industry visionary. mg proudly recognizes 2017 undergraduate level scholarship recipient Nicholas Lommen, a senior at Bemidji State University, and 2017 graduate level scholarship recipient Qi (Viki) Zheng, a graduate student at the New York Fashion Institute of Technology. mg celebrates the scholarship recipients during EXHIBITORLIVE, hosting a gathering for all industry students at the event.
As part of the scholarship selection process, students submit projects from their design portfolio as well as writing a brief essay on the skills they believe are most important for being a successful designer. Applicants must also meet academic requirements and demonstrate their involvement in the exhibit industry. In addition to their scholarships, recipients also receive travel expenses to attend EXHIBITORLIVE from mg.
Nicholas Lommen, Bemidji State University, Undergraduate Scholarship Recipient
A senior, Nic has maintained a 4.0 GPA and a spot on the BSU Dean's List throughout college while also working and volunteering. Several of his projects have earned recognition in industry sponsored competitions. In his scholarship application, Nic wrote: "In living the life of a designer I have found that there is truly no greater feeling than seeing your ideas come to life; seeing all of your hard work amount to something much greater than yourself."
Qi (Viki) Zheng, Fashion Institute of Technology, Graduate Scholarship Recipient
Qi has worked as an event designer and on multiple exhibit installations before enrolling in FIT/NY's Master of Arts program in Exhibition and Experience Design. In her application, Qi shared: "Storytelling as an important skill to engage visitors to experience of exhibition and its holistic attributes. This would involve combining the knowledge of audience and design strategies to provide visitors with a "world of imagination."
The Michael Grivas Sr. Exhibit Design Excellence Scholarship program is an annual scholarship awarded to two exemplary students seeking a degree in an exhibit design-related field. To be considered, applicants must:
Be at least a junior currently attending an accredited U.S. post-secondary institution seeking a Bachelor's degree in an exhibit design-related field or a graduate student in a Master's degree program in an exhibit-design related field
Have a cumulative grade point average of 3.2 or higher at the time of application
Demonstrate traits of leadership, excellence and creativity
Scholarship applications for the next school year will be available September 1.
Delivering meaningful value for clients and their brands is what drives mg. mg's Single Source Simplicity makes mg the only partner your experiential marketing program needs for exhibits, events, environments and engagement. mg is a complete face-to-face marketing partner offering a full A-Z line-up of in-house services from strategy to design, account leadership to show services, technology to graphic production, fabrication to I&D/Logistics. Winners of the 2015 EXHIBITORLIVE Best of Show, mg has been building great experiences for more than 55 years. Visit their new website at simplymg.com.