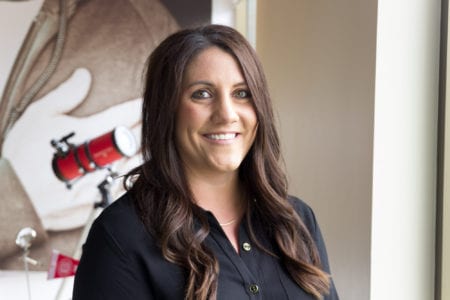 MG is pleased to announce Megan Wells has joined their staff as Marketing Services Coordinator.  This is a new key role within MG's magnify group which provides engagement marketing support to a number of different clients.  In addition to providing project management and admin support to the magnify team, Wells will also manage communications for the New Business Development team.
MG has made a substantial investment in magnify, MG's internal engagement marketing agency, this year by increasing its staff of strategists and support team members including Wells. The magnify team is actively involved in new design projects from the earliest stages, strategizing traffic flow and key elements affecting exhibit experiences both on and off the show floor. In 2015, the team added significant bandwidth in client research that has further enhanced magnify's ability to create successful engagement strategies uniting brand and audience. Wells will report to Ben Olson, VP, Marketing, who leads the magnify team.
"We are happy to have Megan join magnify's growing team," said Olson. "She has a well-rounded and fun background including playing college basketball for Evangel University in Missouri.  Her undergraduate degree in electronic media & marketing and her experience in marketing & promotions will be a benefit to magnify clients looking to enhance their programs."
Wells has worked for universities and non-profit, faith-based organizations to improve their lead generation and build partnerships. Her most recent position was with Herzing University, a private, non-profit university with 11 locations and online learning. Starting in admissions, she was promoted to Director of Community Partnerships.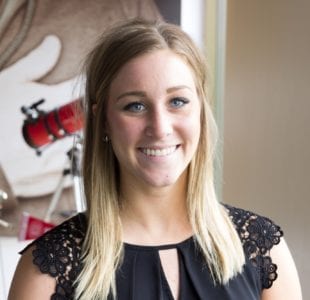 MG Also Expands Exhibit Design Team with Addition of Ashley Kiecker
MG is pleased to announce that Ashley Kiecker (right) has joined its award-winning exhibit design team. A recent graduate of Bemidji State University in Minnesota, Kiecker was introduced to exhibit design at BSU where she attended as a student athlete and earned a Bachelor of Science in Art and Design, Exhibit Design Emphasis. Working at MG is her first job out of college. "I enjoy the challenges that exhibit design presents," said Kiecker. "It's an amazing challenge. Every day is different as we create brand experiences and solutions."
Kiecker was one of two 2016 recipients of the Michael Grivas Sr. Exhibit Design Excellence Scholarship. MG's Exhibit Design Excellence Scholarship program was created in memory of MG Founder Michael Grivas Sr., a talented designer, industrious entrepreneur and industry visionary. The Michael Grivas Sr. Exhibit Design Excellence Scholarship program is awarded annually to two exemplary students seeking degrees in an exhibit design-related field.
"We were first introduced to Ashley through our mentoring involvement with Bemidji State," said Rob Majerowski, VP, Creative, MG. "After winning the Michael Grivas Sr. Exhibit Design Excellence Scholarship, she visited the MG team at EXHIBITORLIVE 2016. We were pleased to be part of her training and now to have her as part of the team."
Winners of the 2015 EXHIBITORLIVE Best of Show, MG has been building great experiences for more than 55 years, making feet stop and eyes pop. For more information, visit mgdesign.com.