For 12 years, Event Marketer Magazine publishes an annual "it" list of top event agencies among veterans, specialists, up-and-coming, digital savants and minority–owned shops. Multi Image Group (MIG), an internationally recognized South Florida corporate communications agency, was named among the top 100 agencies.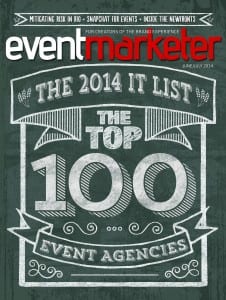 In order to be considered, each agency submitted three specialties, so youth brands can more easily find Millennial-focused agencies with the chops to execute what they need, and b-to-b brands can skip the line and go straight to the tradeshow and meeting experts.
"We're honored to receive this recognition and really proud to see our innovative capabilities in creating transformative event experiences make the 'It' list," commented Robert Sclafani, owner, MIG.
Event Marketer Magazine was founded in 2002 to serve the information needs of strategic brand-side event marketers and agency executives across the spectrum of face-to-face marketing – including mobile marketing, mall marketing, street events, tradeshows, corporate events, business-to-business events, buzz marketing and press events.