On August 15, the list of top 50 U.S. based exhibit and event fabricators was announced by Event Marketer magazine. This m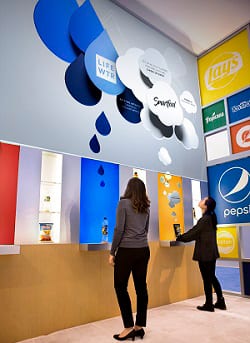 arks the fifth year in a row that Mirror Show Management has appeared on the list.
The Fab 50 serves as a starting point for event marketing and procurement teams in their search for an exhibit and event partner and this year MSM was specially recognized for their innovations in customer engagement and technology integration (pictured above, right and below).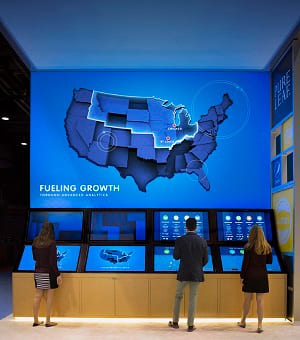 "We're thrilled to be chosen again for the Fab 50," says Donna Shultz, MSM president. "We see it as a reflection of just how committed we are to continual innovation, pushing the limits in customer engagement and consistency in delivering high quality experiences to our customers and their audiences."
Event Marketer magazine was founded in 2002 to serve the information needs of strategic brand-side event marketers and agency executives across the spectrum of face-to-face marketing. The annual list of Top 50 fabricators is selected through a rigorous application and judging process that assesses capabilities, competencies and culture. To view the complete 2018 Fab 50 list visit www.eventmarketer.com/fab50-2018.
Mirror Show Management is a woman-owned, customer experience agency specializing in exhibits, events and environments. Their specialty is delivering custom brand experiences that engage, inspire and educate to drive customer loyalty. MSM was the first agency RFP-certified by the Experiential Designers and Producers Association, was named a Top 5 exhibit producer on Exhibitor magazine's Find It-Top 40 list, resides on Event Marketer's Fab 50 List of elite exhibit fabrication companies and has been named a Top Workplace each year since the award's inception. For more info, visit www.mirrorshow.com.