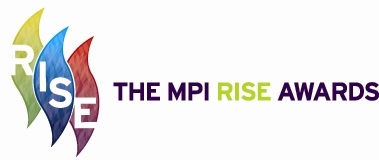 Meeting Professionals International (MPI) has announced five recipients for the 2011 Recognizing Industry Success and Excellence (RISE) Awards. The outstanding achievements of these individuals, communities and organizations will be acknowledged at the RISE Awards presentation and lunch on July 24, 2011 during MPI's World Education Congress (WEC) in Orlando, Fla.

The RISE Awards include annual awards in three categories: individual achievement, community achievement and organizational achievement. Recipients are recognized for innovation, influence, global transferability and impact. This is the second year that the awards will be given for all three categories within the program.
"Courageous thought and effort are usually behind results that inspire. The recipients remind us what one person and one organization can do" said Brian Palmer, chairman of the RISE Awards judging panel.
The RISE Award for Young Professional Achievement will be presented to recent Central Michigan University (CMU) graduate Courtney Stanley for creating networking and hands-on opportunities for CMU Event Management students. She has partnered with the Country Music Association (CMA) and the Boston Marathon to create learning opportunities for students. She has just finished a publication that outlines a program titled "Beyond Hands On," which works to create partnerships with event industry organizations in return for comprehensively trained student professionals.
The RISE Award for Meeting Industry Leadership will be presented to Maarten Vanneste, CMM, the author and publisher of "Meeting Architecture, A Manifesto." Maarten's work is changing the way professionals approach the planning of meetings. The tools and logic he has created enable meeting professionals to design meetings that achieve results based on objectives. His work will leave a lasting legacy on how we evolve the practice of meeting design and further emphasize the importance of meetings and events as an essential tool in creating business value.
The RISE Award for Member of the Year will be presented to MaryAnne Bobrow, CAE, CMP, CMM, CHE for her volunteerism in the MPI community. MaryAnne has consistently served in countless volunteer service roles for her MPI chapter and internationally. As a lifelong learner, teacher, contributor and mentor, she strives to give back to those who have contributed to her success. MaryAnne is managing partner of Bobrow & Associates and a member of the MPI Sacramento/Sierra Nevada Chapter.
The RISE Award for Community Achievement in Knowledge and Ideas will be presented to the MPI Minnesota Chapter for its development and execution of the Emerging Leaders Program (EL). Created to provide targeted programming to members new to the industry, the EL provides networking opportunities and education geared toward these individuals. The Emerging Leaders program's success has fueled the development of the MPI Global Emerging Leaders Community.
The RISE Award for Organizational Achievement will be presented to the Cape Town International Convention Centre (CTICC) in Cape Town, South Africa for its exceptional use of meetings and events to enhance economic spinoff and improve and influence its local community. The centre, which is a public entity owned by the City of Cape Town, the Provincial Government of the Western Cape and private business first opened its doors in 2003. In addition to providing income and jobs to Cape Town and the Western Cape, the centre has developed a model and format that has seen it become an industry leader in sustainability, which other South African businesses can and do follow to provide profitable and societal impact. The initiatives by the CTICC have enabled it to meet its goal of becoming a leading convention centre in the African continent while elevating the image of its community.
The presentation will take place from noon to 1:30 p.m. at the Peabody Orlando on July 24, 2011. For more information, please visit www.mpiweb.org/wec.