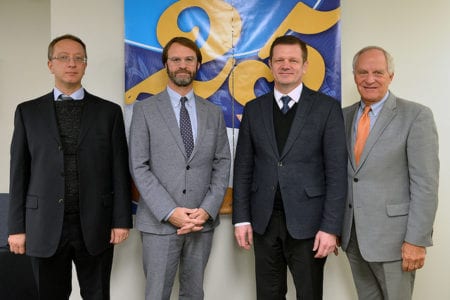 The New Orleans Ernest N. Morial Convention Center was pleased to welcome Slovak Ambasador Peter Kmec and associates for a tour of the Convention Center. Pictured: Dr. Zoltan Gombos; Kristian Sonnier, Vice President of the New Orleans CVB; Ambassador Kmec and Convention Center President Bob Johnson.
New Orleans business and tourism officials welcomed Slovak Ambassador Peter Kmec last week for an informational meeting and to discuss trade development and diplomatic relations between New Orleans and Slovakia. 
Ambassador Kmec met with New Orleans Ernest N. Morial Convention Center President Bob Johnson, New Orleans Convention and Visitors Bureau Vice President Kristian Sonnier, Mayor Mitch Landrieu, and other local officials with the Louisiana Department of Economic Development, the Port of New Orleans, the New Orleans Business Alliance, GNO Inc, and the World Trade Center.
The Louisiana Consular Corps also hosted a dinner for local consuls including the Honorary Consul of Uruguay; Vice Consul of France; Honorary Consul of Iceland; Honorary Consul General, St. Vincent and the Grenadines; and the Honorary Consul of Italy.
Ambassador Kmec was accompanied by Dr. Zoltan Gombos of Lafayette, a Slovak national who has been selected as the Slovak Republic's honorary consul to Louisiana.
With 1.1 million square feet of contiguous exhibit space, an award winning staff and first class amenities, the New Orleans Ernest N. Morial Convention Center is the sixth largest convention center in the nation, a consistent Top 10 host of the largest number of conventions and tradeshows annually, and one of the city's "Top Workplaces." As "Louisiana's Economic Engine," Convention Center event activity has produced $53.7 billion in economic impact since its 1985 opening, including $3.4 billion in new tax revenue for state and local governments. For more info, visit http://www.mccno.com.