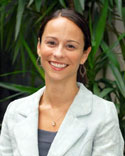 The New Orleans Convention and Visitors Bureau (NOCVB) recently announced that Jennifer Day has joined their award-winning staff as director of communications and public relations. Through her role at the NOCVB, Day will work closely with the local community and media to promote the city's hospitality industry, as well as local sporting and cultural events.


During her three consecutive years at the New Orleans Office of Film and Video, the film industry cultivated record-breaking levels of production activity with Day working on roughly 71 major projects, including "The Curious Case of Benjamin Button," "12 Rounds" and "Treme," with a combined spend of $600 million.
In addition to her work with the feature film industry, Day has extensive experience assisting crews on earned media projects such as the "Oprah Winfrey Show," "Top Chef," "Jimmy Kimmel Live" and "The Ellen DeGeneres Show." She has also cultivated print coverage for the city in The New York Times, USA Today, The Associated Press, The Hollywood Reporter and Variety.
"Jennifer is the perfect addition to the NOCVB, and will expand our-award winning team of public relations professionals charged with protecting the New Orleans hospitality industry's reputation, and assisting with media locally, nationally and internationally," said Kelly Schulz, vice president of communications and public relations for NOCVB. "With her experience garnered from the Office of Film and Video, Jennifer will add an important element of insight into the local film industry, which has grown to be one of the largest industries in the state of Louisiana. We are excited to welcome her to our team."
Day will report to Schulz where she will serve with her as a spokesperson for the CVB and the hospitality industry.
Day graduated with a Bachelor of Arts from Illinois State University. She then moved to New Orleans where she received a Master of Arts at Tulane University in Sociology. Day then began her work with New Orleans city government in 2006 when she was awarded a Mayoral Fellowship in the Office of Economic Development in the Arts and Entertainment division. In 2007, she was promoted to director for the Office of Film and Video.