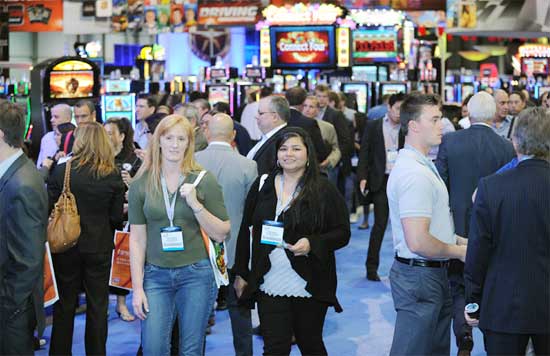 Although exhibitor attendance was down for the 2012 Global Gaming Expo (G2E) in Las Vegas Oct. 1-4, exhibit space square footage was up and attendance steady, prompting show management to hail the gambling extravaganza a success. G2E executives are attributing some of the show's success to the Sands Expo & Convention Center and its access to housing, eateries, entertainment and other amenities. After 10 years at the Las Vegas Convention Center, G2E moved to the Sands Expo & Convention Center for its 2011 expo.
Produced by the American Gaming Association and Reed Expositions, G2E is by far the largest tradeshow devoted to casino gaming and related activities in North America.


"I am happy to report that this year's show floor is more than 5 percent larger than last year, and it is our largest show since 2008," Frank J. Fahrenkopf, Jr., president and CEO of the American Gaming Association, told the audience during his keynote speech Oct. 2. "To take nothing away from the great folks over at the Las Vegas Convention Center, I think the move here was a tremendous decision for the show. Obviously, people love to eat, sleep and work under one roof. It certainly made our lives easier, and I think it's made the show a lot better."
The Sands Expo and Convention Center is adjacent to the Venetian hotel, and show attendees have easy access to a variety of other hotels and amenities in the area.
"G2E weathered the storm of the recession better than a lot of shows in other sectors," said Fahrenkop. "But the faltering economy certainly took its toll over the last few years, and our numbers were a bit down. I think the growth (of the 2012 expo) has a lot to do with our move to this new venue. People wanted to see how last year worked out. When they saw how successful it was, people wanted to purchase more space, and new exhibitors wanted a piece of the action. But even more than that, I think the growth of G2E is evidence of a renewed confidence in the industry."
Although audited attendance figures are not yet available, G2E attendance is expected to compare to last year's 24,000 to 25,000 attendees, said Judy Patterson, senior vice president and executive director for the American Gaming Association. In total, 430 companies exhibited at G2E this year compared to 450 in 2011, a decline of 4.4 percent.
Exhibit space purchased, however, crept up from 250,000 square feet in 2011 to 262,000 square feet this year, an increase of 4.5 percent. There were 120 new exhibitors this year representing 16 countries, including Australia, Canada, China, Germany, Japan, Korea, Mexico, South Africa, Taiwan, the U.K. and the U.S.
Patterson attributes the drop in exhibitor attendance to corporate consolidation in the industry and the economy.
"There may have been a loss of exhibitors simply because companies are buying other companies while other companies just did not have the financial ability to attend or are just not in business any more," said Patterson. "However, enthusiasm among the exhibitors and attendees overall is the highest I have ever seen. We saw a lot of enthusiasm after moving to the Sands last year, but there was a little holding back because of the growing pains of moving into a new venue. But, obviously, we have gotten past that."
Aleta Walther is a Southern California-based marketing communications professional, freelance writer and experienced corporate exhibit manager. Contact Aleta at aleta@prwriterpro.com.
http://developers.facebook.com/docs/reference/plugins/like/