Nimlok, a global provider of custom, custom-modular and portable tradeshow exhibits, introduces an innovative way to view custom exhibits in 3D via a mobile device or tablet.


In a newly-released brochure, Nimlok features five exhibit structures that can be seen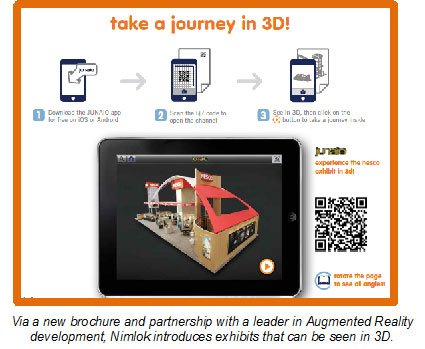 in 3D once the user simply downloads an application and scans a QR code with his or her smart phone or mobile device. As a result, the user can see details and areas of a large-scale exhibit that a 2D rendering or image simply cannot provide.
"Nimlok is one of the first in the industry to use augmented reality and 3D to present its solutions," said Giles Douglas, president, Nimlok. "As a company, we see value in investing in cutting-edge technology to not only design and manufacture our solutions, but to present and market them as well. It's a cool way to show clients and our audience the possibilities of what Nimlok custom solutions provide."
In its new brochure, which can be downloaded online at www.nimlok.com/custom-exhibits-brochure/, Nimlok explains how the company brings unique exhibit design ideas to life. The brochure speaks to the company's creativity, process, manufacturing capabilities and services around custom exhibits and solutions. The company designs, manufactures and supplies not only custom exhibits, but also specializes in portable-modular and custom-modular display products and solutions.
This is just the beginning of how Nimlok will utilize augmented reality and 3D technology to present its custom-exhibit solutions. Using a sophisticated, cutting-edge rendering and production software system, Nimlok soon will be providing each client with the ability to electronically view tailored exhibit concepts, display instructions and more in 3D.
Nimlok is a global leader in delivering face-to-face marketing experiences, including tradeshow exhibits, event environments and permanent solutions for branding spaces. Now in its fourth decade, Nimlok works via a network of 200 partners in 56 countries to provide strategy and execution in custom modular design, construction, installation, dismantling and storage.