Deputy Director of Cybersecurity and Infrastructure Security Agency to Deliver Keynote Speech at Rescon 2021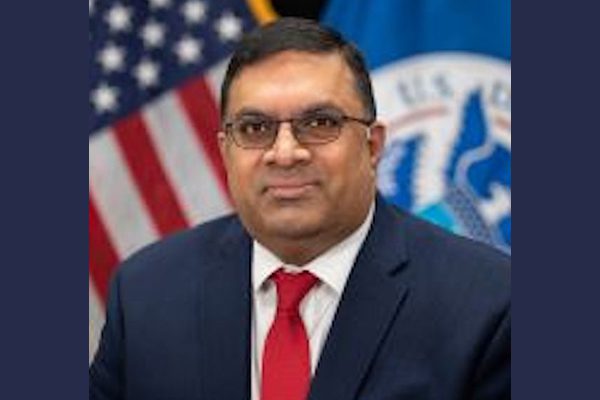 The New Orleans Ernest N. Morial Convention Center will host Nitin Natarajan (pictured left), the deputy director of the Cybersecurity and Infrastructure Security Agency (CISA) when he speaks at ResCon 2021 on Sept. 17, 8:45 a.m –  9:45 a.m., inside La Nouvelle Ballroom at the New Orleans Ernest N. Morial Convention Center, located on the second floor of the facility above Hall I. Deputy Director Natarajan will discuss CISA insights, initiatives and priorities, and the path to increased cybersecurity and critical infrastructure resilience.
Nitin Natarajan serves as the Deputy Director for the Department of Homeland Security's Cybersecurity and Infrastructure Security Agency (CISA) as of February 16, 2021. In this role, he supports the CISA Director overseeing the Cybersecurity Division, the Infrastructure Security Division, the National Risk Management Center, and the Emergency Communications Division. His operational support responsibilities are to ensure a holistic approach to critical infrastructure protection across physical and cyber risks activities.
ResCon is the premier annual international conference on the practice of successful resilience and disaster management in an evolving global environment. Based in New Orleans — a globally recognized hub of resilience, disaster management and innovation — this 3-day conference will bring a diverse mix of disaster and resilience practitioners to explore profound and powerful topics that impact communities and economies worldwide.
With 1.1 million square feet of prime exhibit space, in an entirely contiguous hall, the New Orleans Ernest N. Morial Convention Center provides the largest single exhibit space in the country. The New Orleans Ernest N. Morial Convention Center features an award winning staff and first class amenities, and is the sixth largest convention center in the nation.  A consistent Top 10 host of the largest conventions and tradeshows in the nation annually, the Convention Center is also one of the city's "Top Workplaces." A leading contributor to the city's robust tourism economy, the Convention Center's event activity has produced $90.1 billion in economic impact since its 1985 opening, including $5.7 billion in new tax revenue for state and local governments. 
The mission of ResCon is to unite expert thought leaders from round the world from business, academia, government, and international organizations to develop best practice and policy information in order for communities and businesses to thrive and achieve resiliency. This annual event will provide a unique convening platform to connect, identify, and collectively develop creative standards and solutions that will result in the mitigation of loss of life and property when catastrophic events occur.