Visit Orlando, the official tourism association for Orlando, Fla., announced March 23 that GRAPH EXPO, slated for Sept. 25-28, 2016, is to be held at Orange County Convention Center (OCCC). This is the first time in the show's 40-year history that it will take place in Orlando.
GRAPH EXPO is recognized as the most innovative and comprehensive yearly exhibition of technologies, equipment, products and services for the commercial, package printing and converting, display, in-plant, transactional, publishing, mailing, photo-imaging, marketing and industrial printing industries.



"We are delighted to be bringing GRAPH EXPO to Orlando in 2016," said Ralph Nappi, president, Graphic Arts Show Company (GASC). "Not only did Visit Orlando and the Orange County Convention Center superbly represent just how ideal a destination Orlando would be for our show's date and size requirements, they also convinced us with the momentum behind Orlando's booming tourism community that it represents an exceptional overall show visitor and exhibitor experience."
The four-day GRAPH EXPO 16 print technology manufacturing show is expected to draw nearly 25,000 attendees to Orlando in September, and promises to generate approximately $40 million of economic impact across Orlando.
"Orlando is recognized among the top three convention markets in the United States, based on its modern convention center and dynamic tourism community that is best known for its hospitality and guest service," said George Aguel, president and CEO, Visit Orlando. "We are excited to welcome GRAPH EXPO visitors and exhibitors to Orlando for the first time. They will see that our wide variety of resort hotels, the increased investment in our convention center and airport, and the great reputation we now have for award-winning dining and exciting nightlife make Orlando more competitive than ever as a host city for major exhibitions, conventions and conferences."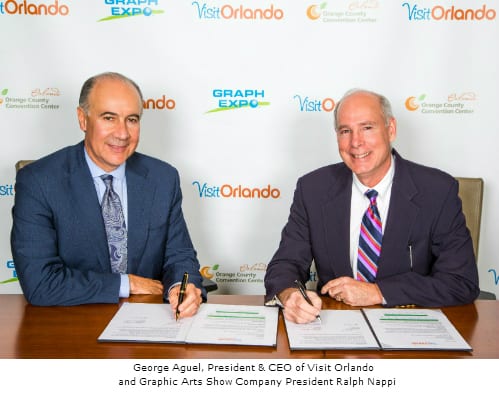 OCCC has been recognized as a top convention center in the U.S. and has expanded five times in its 30-year history.
"The capital improvements we've been making at the convention center will deliver a truly exceptional experience for GRAPH EXPO exhibitors and attendees," said Kathie Canning, executive director, OCCC. "We look forward to welcoming GRAPH EXPO 16 to the 'Center of Hospitality' next September."
GRAPH EXPO 16 will bring to Orlando the latest graphic communications technologies for print, online and mobile in live equipment demonstrations across the exhibition floor, plus education on the most in-demand products and newest profit-making opportunities.
For more information about GRAPH EXPO, visit www.graphexpo.com