Selfies are not just a 'flash-in-the-pan' modern trend – here today, gone tomorrow. They can inspire, support and motivate people invested in a celebration, brand or event. And when theme-based selfies are combined with social media and backed by powerful technology, it puts an entirely new, 21st century spin on traditional photo booths, which have long been an integral part of American culture.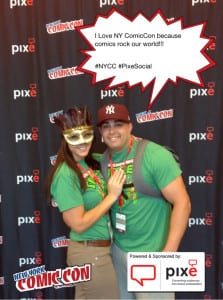 This is where Pixe Social comes into the picture, pun unintended. Pixe is a mobile and photo booth-based social marketing solution that is empowering brands to leverage word-of-mouth publicity by presenting their own audience as the brand promoter on leading social media channels. Partnering with Exhibitor Media Group, Pixe is providing attendees an opportunity to see themselves on the cover of EXHIBITOR Magazine at EXHIBITOR2014, the leading event for tradeshow and event marketing professionals. To be held in Las Vegas this month, the EXHIBITOR2014 Photo Booth, powered by Pixe Social, will enable attendees to take their photos in front of a green screen and share with fans and friends on Facebook and Twitter, live from the event venue. The photos will also be streamed on a rotating slide show on a large HD screen on the show floor.
"Pixe's new social media-powered photo booth offers comprehensive features for building brand awareness among current and potential customers," said Rajiv Jain, CEO, Pixe, a Maryland-based start-up providing turnkey social promotional solutions. "Pixe Social not only brings traffic to an exhibitor's booth or event, but it also provides an engaging experience for attendees. People love the opportunity to express their emotional connection with their favorite brand, especially at an exhibition where they are already wowed by a great experience. The photo becomes their digital memento from the event."
Apart from being a completely cloud-based, mobile marketing solution, Pixe Social is deeply integrated with leading social media services in real-time. Unlike conventional photo booths, which deliver printed photos or post just to users' profiles, Pixe Social is a green solution that enables users to post photos on the brand's social channels first, and then share with their own friends, giving brand owners the copyright and control over the 'photomonials' shared from their photo booths. Hosting the photos on their own social media pages also gives the exhibiting company the ability to track detailed analytics for the photo posts, such as when and where the photos are shared, as well as the demographics of the people who engage with the photos online. The Pixe Social solutions are also configured to collect users' email addresses as an optional feature, providing businesses with an opportunity to reach their consumers via branded marketing communications at a later date.
"This is important because it creates the post-show engagement exhibitors are seeking," Jain added. "It combines the excitement of a photo booth with the impact of social media marketing to activate a company's online community, boost its brand's social presence and engage its prospects online."
Last October, New York Comic Con's producer hosted Pixe's photo booth and tied the event to a contest. The owner of the photo who got the most "likes" in the two weeks following the show would win an iPad Mini. Almost 4,000 photos went viral at Comic Con, creating about 644,500 impressions for a total reach of more than 316,900. Of those who saw the postings on Facebook, approximately 60,600 people "liked," shared or commented on the photos. Each photo was posted/tweeted with the event's hashtag including Comic Con's logo prominently displayed in addition to an embedded testimonial: pixesocial.com/public/ShowPressRelease.aspx?PRId=9.
"What sets Pixe Social apart from other photo booth vendors is that it can provide exhibitor's brand analytics for those 60,600 Facebook visitors," said Jain. "The exhibitor can send the users their photos and say, 'thanks,' and continue the conversation long after the show is over."
Though launched in April 2013, Pixe Social has been leveraged by a number of leading brands, including Brad's Raw Foods, Cracker Barrel Old Country Store and Ferrari World, to engage their audiences and to super-charge their digital presence.