Registration is now open for the Exhibit & Event Marketer Association's (E2MA) 2015 Red Diamond Congress (RDC), to take place July 21-22 at the Boston Quincy Marriott in Quincy, Mass. The mission of the E2MA, and the RDC, is to engage the innovative class of all tradeshow industry stakeholders to identify models, methods and practices that measurably improve the value of face-to-face marketing.
"The theme for the 2015 Red Diamond Congress is 'Engagement'," said Jim Wurm, executive director, E2MA. "Day One of the event will focus on Engagement Strategies, featuring several presentations from the Enterprise Engagement Alliance (EEA)."
The EEA is a coalition of business professionals, academics and companies dedicated to the concept that engagement is an enterprise-wide endeavor that "begins with people and ends with profitability."
"Day Two of the RDC will be an exploration of Engagement Tactics and methodologies that can activate and enhance the Vendor-Customer relationship as well as the Employer-Employee relationship," Wurm explained.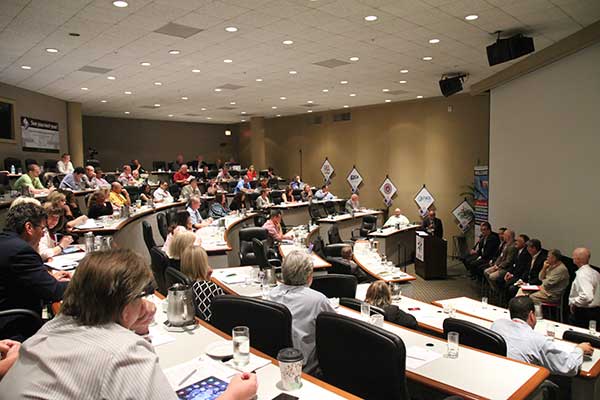 This year's Congress will expand on relationships developed during the 2014 event.
"Best of all, the 2015 RDC will be an assemblage of some of the greatest innovators in our industry," continued Wurm. "In 2014 we brought together industry leaders and our members to investigate the opportunities created when we build bridges of connection and understanding. In 2015, we will leverage those connections to identify the means to inspire new practices in our industry that can measurably improve the value of tradeshow participation."
The Red Diamond Congress is the Annual Meeting of the E2MA. The Twitter hashtag for the Red Diamond Congress will be #RedDiamond2015.
The Exhibit & Event Marketers Association (E2MA), headquartered in Bend, Ore., is the premier thought leader and content development organization for corporate marketers, and their suppliers, in the face-to-face marketing medium. Driven to benchmark and promote the business value of tradeshows and events, the E2MA evaluates and identifies best practices, new tools, new technologies and new techniques that enable marketers to optimize their event marketing programs. The E2MA is comprised of more than 500 member companies representing more than 17,500 full-time tradeshow professionals, and more than 45,000 part-time tradeshow workers.
For more information, visit e2ma.org