The Largest Healthcare Tradeshow in the U. S.
by Bob McGlincy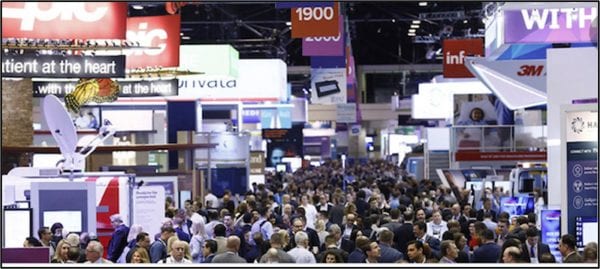 Do you remember a time of tradeshows? A time of live, face-to-face meetings? A time when a convention center exhibit floor filled with the joy and exuberance of a marketing extravaganza? A time when people populated the aisles, when the sounds of a show reverberated and echoed throughout the hall, and when the venue itself became a mini-university for three or four days? Probably many people can remember such a time; and, fortunately, that time has come again.
Tradeshows are returning, and they are occurring with increased frequency. Orlando hosted MRO Americas at the end of April; Vision East will be seen early June, and Coverings, ICAST, and GBTA show up in Orlando in July. The Chicago Auto Show motors into McCormick Place July 15. World of Concrete (the 14th largest tradeshow in 2019, based on square footage) opens in Las Vegas June 8, followed by Surfaces, Nightclub and Bar, and ISC West in July. Then HIMSS highlights the August calendar.
Do you remember HIMSS? Pictured above, this 2019 show was the largest healthcare conference in the world that year.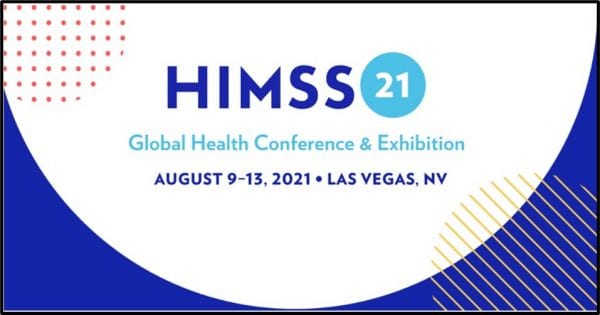 The "Healthcare Information and Management Systems Society," as it is known today, was founded as HMSS in 1961, and the first conference was in 1962; the name was changed in 1986 to include an additional focus on information systems and technology. HIMSS will be live in Las Vegas this summer, August 9-13, and people will be able to attend either digitally or in-person. HIMSS is known for its spectacular exhibit show floor, and for its world class educational sessions. According to the association, seminar topics range from "digital transformation leadership to AI to population health to clinically integrated supply chain to telehealth. (The) programming brings outcomes-focused, best practices education from world-class thought leaders … The HIMSS Global Health Conference & Exhibition is the can't-miss health information and technology event of the year, where professionals throughout the global health ecosystem connect for education, innovation and collaboration. For nearly 60 years, HIMSS members and healthcare professionals—from CIOs and senior executives to providers and payers to IT consultants and entrepreneurs—have attended the industry's most influential conference and tradeshow."
HIMMS will by a hybrid event, offering both live and virtual options. As of May 27, there were 523 exhibitors signed up for space on the show floor, and undoubtedly more companies will plan to exhibit over the next two months. For more info, visit www.himss.org.

There is no substitute for face-to-face. Energy enlivens the experience, and makes the moment an almost magical memory. Looking forward to a great show in Vegas this summer!

Bob McGlincy is director, business management at Willwork Global Event Services. Willwork creates engaging, energized, and exceptional event experiences. He can be contacted at Bob.McGlincy@willwork.com