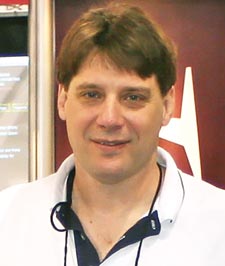 Robert Frost wrote about the road less traveled and Roy Muller is a prime example of choosing the right path. Twenty-two years ago, when he was looking for a job, any job, Muller landed at a company that manufactured trusses for mostly retail stores.


More than two decades later, Muller is the president of Trussworks, a business owner, Bay Area resident and member of the exhibit and tradeshow industry; all things he never thought possible when he chose his career path.
Two years after he started in the truss industry, Muller and his business partner Sinh Vong set out on their own to open Trussworks. They quickly learned their product was a hit, not with retailers as at the previous company, but with the exhibit and tradeshow industry. They went with their new path, picking up their participation on the show floor in 1993.
"We had a little bit of an advantage," said Muller. "We made a better product and we turned things around faster. This industry really requires things get done right the first time. Things need to get done because the show is on. We get it done and get it done quick."
Over the years, Trussworks has added a number of new product lines to its traditional systems. Every system adheres to the four principles which embodied the first product lines: speed, simplicity, strength and style.
Not long after being swept into the industry, Muller realized he had a passion for the work; the ebb and flow of energy, the challenges and the customer service.
"The exhibit and tradeshow industry gives something many others don't; instant gratification," said Muller. "I enjoy creating things that work consistently and universally. From the rental perspective, I like being on the show floor, and working in the chaos."
He didn't set out to be a business owner, so Muller learned along the way. In 2001, after Sept. 11, the economic downturn caused Trussworks to reduce its workforce from 90 to 20 employees, a number Muller has kept constant the last eight years. The current economic climate has left Trussworks virtually unscathed because of lessons learned early.
"We learned our lessons then," he said. "Some people are learning their lessons now."
From where he stands, Muller has a good view of the industry and he has a positive outlook. The companies that survived the recent economy will survive the long haul, he predicted.
"By now, people have acclimated to what the economy is now," he said. "Any growth or recovery should be a bonus, not a need or a requirement."

When Muller was out of a job, he found one. When he thought he could do the job better, he and Vong created their own futures.