By Ray Smith, Exhibit City News
Most of us accept that electric vehicles are shaping the future of the automobile industry, but nobody wants to drive to Death Valley in the summer and end up with a dead battery. That's a slow way to go. Clearly, the estimated 160,000 motorheads attending SEMA 2023, held Oct. 31-Nov. 3 in Las Vegas, remain hesitant to buy into the EV concept, at least for now, perfectly content to fill the gas tank and burn it fast. Consumers spent $52 billion on specialty automotive aftermarket products in 2022, hopping up cars with oversized pistons and purring exhaust pipes, high-powered speakers, and low-rider suspension.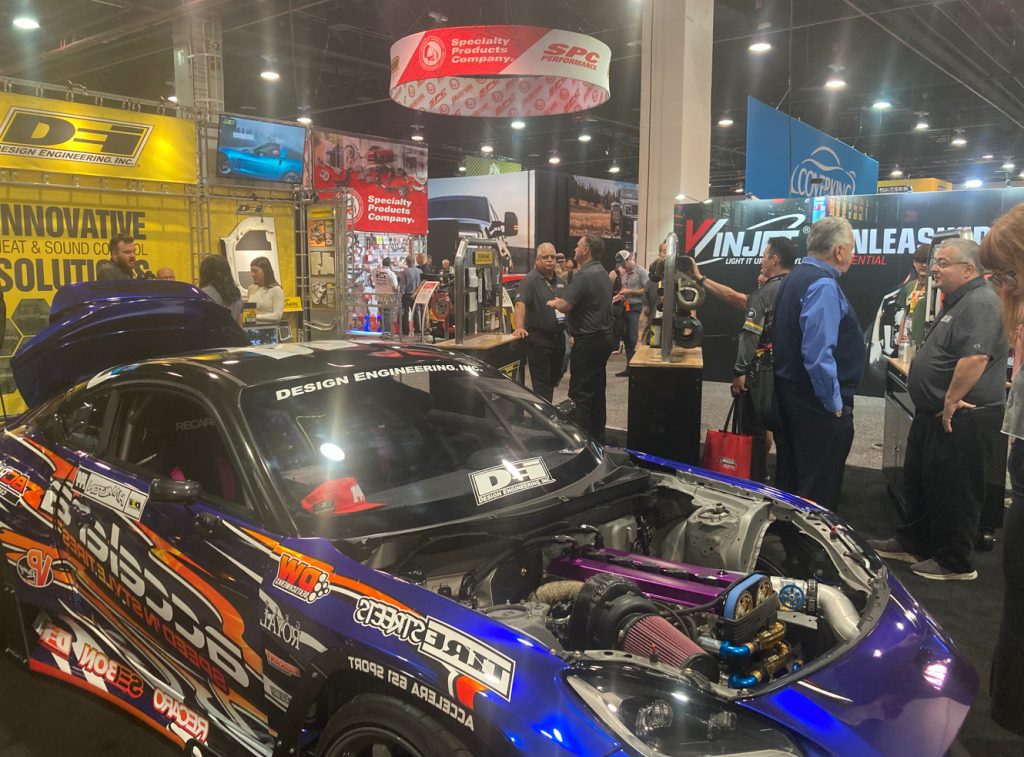 American muscle cars and Japanese tuners delighted thousands of spectators by burning rubber at makeshift racetracks in three parking lots of Las Vegas Convention Center. Inside the North, Central, and South exhibit halls, more than 2,200 exhibitors packed the show floor with the latest in automotive products and technology. It was a record crowd, and it shows the pent-up demand from being locked down during the pandemic, says Mike Spagnola, chief executive officer of SEMA.
"Obviously, COVID took a shot at us," Spagnola says at SEMA Central before a panel discussion on the automotive future. "We came back strong in 2021 and came back stronger in 2022. It's pent-up demand, and it's Vegas." SEMA has transitioned from 80 percent business-to-business exhibitors and 20 percent retailers to about a 50-50 split today, he adds. Twenty percent of exhibitors were making their debut at SEMA 2023. SEMA Fest, a two-day music festival concluding the auto show, was added this year to appeal to the 25- to 40-year-old crossover of car and music fans. "My ultimate goal is to make this like South by Southwest or Sturgis," Spagnola says.
ROBUST MARKET
Las Vegas Convention Center was filled with polished classic vehicles, exhibit booths drawing crowds with interactive experiences and demonstrations, the buzz of business conversations, and thousands of new products aimed at buyers looking for the next hot seller. A report commissioned by SEMA shows that the specialty automotive aftermarket is robust, despite economic challenges and the recent United Auto Workers strike.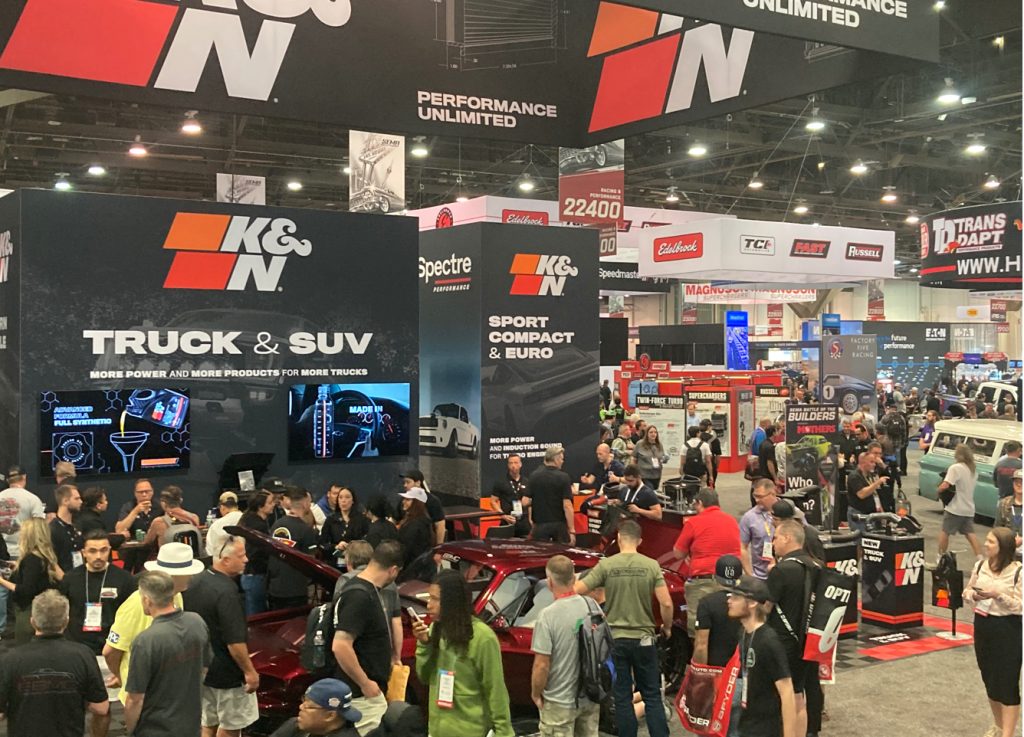 The industry supports more than 100 million jobs in America and provides $100 billion in wages and benefits. After two days at SEMA, Mitchell Pearson says he's seen enough, though he enjoyed everything he saw. The buyer for a Mercedes-Benz dealership in Escondido, Calif., was attending his third show. "I'm looking at wheels, tires, and exhaust systems. My customers like that kind of stuff," he says. "And free wax samples."
BUSY SHOW FLOOR
Todd Ryden, marketing director for West Chicago-based PowerMaster starters and alternators, reports the show floor was busy, but "not too crowded" on the first couple of days. The setup of PowerMaster's booth went smoothly, with everything showing up on time. "It's amazing walking out Monday at 8 o'clock, and there's no carpet down and piles of stuff, and 10 hours later it's show-ready. It's amazing what they do," says Ryden, attending his 29th SEMA Show.
SEMA is bringing more EV technology into the show, but "hot-rodding is hot-rodding," he professes. "There's always people who want to improve performance and customize their vehicles." Art Tuason, a fourth-time exhibitor with Hoppo's Custom Suspension Works from Riverside, Calif., was greatly pleased with the SEMA crew setting up his exhibit booth but not so much with the Freeman doorman. "He yelled at everybody. We don't need that. We paid too much for it. We're all adults," Tuason says. "It's stressful for him, I understand, but it's stressful for us too."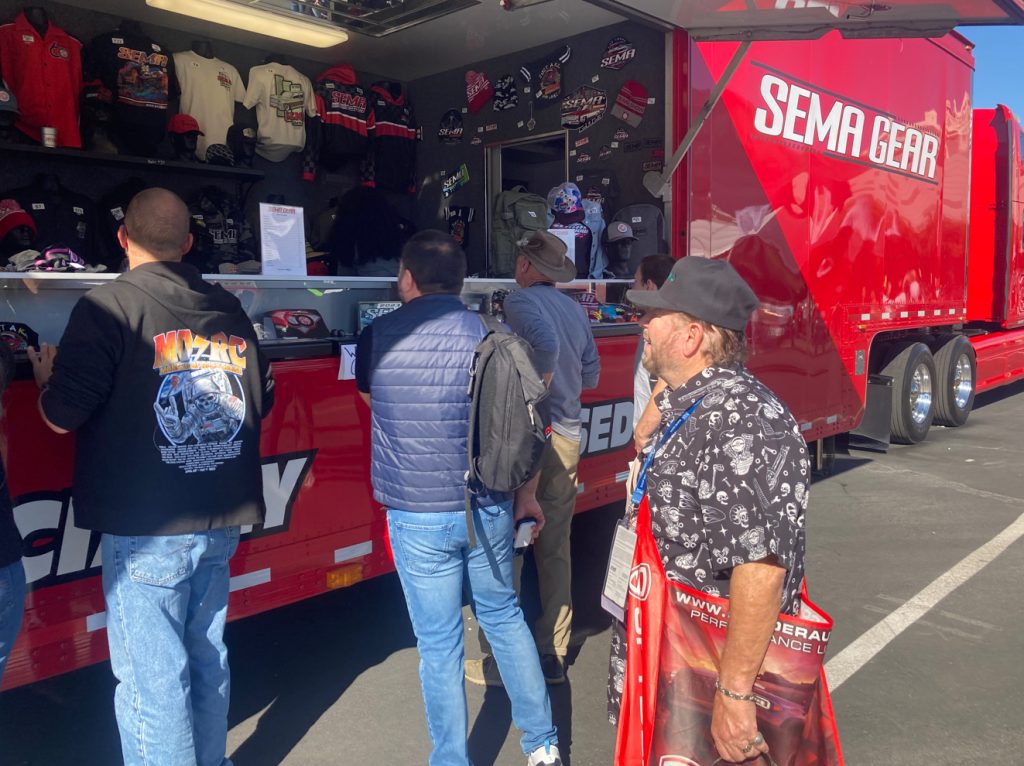 Otherwise, it's been a good show, Tuason attests, perhaps busier in past years, but he's receiving a good reaction to Hoppo's display of hydraulics and air suspension kits, and he's expanding his dealer base to sell the company's products at their shops.
LAGGING TECHNOLOGY
EV technology has yet to advance far enough to make it the standard for automobile sales, says Dave Capper, vice president of Davenport, Iowa-based Ercolina, manufacturer of tube and pipe bending equipment. The cars are too expensive, and they simply can't compete with the market for internal combustion engines, he believes. Those sentiments were fortified by a panel of automotive journalists moderated by Ed Loh, editor of Motor Trend magazine.
Electric vehicles accounted for roughly 5 percent of new car sales in 2022, and though they've increased to about 8 percent this year, "We're a long way off from China, for example," Loh notes. Alistair Weaver of Edmunds finds interest in electric vehicles running far ahead of market sales. Cost is the main challenge, as they're still about $20,000 more than a traditional car. "Are they too expensive? Yes. Is the infrastructure ready? Not yet. But certainly, people are interested."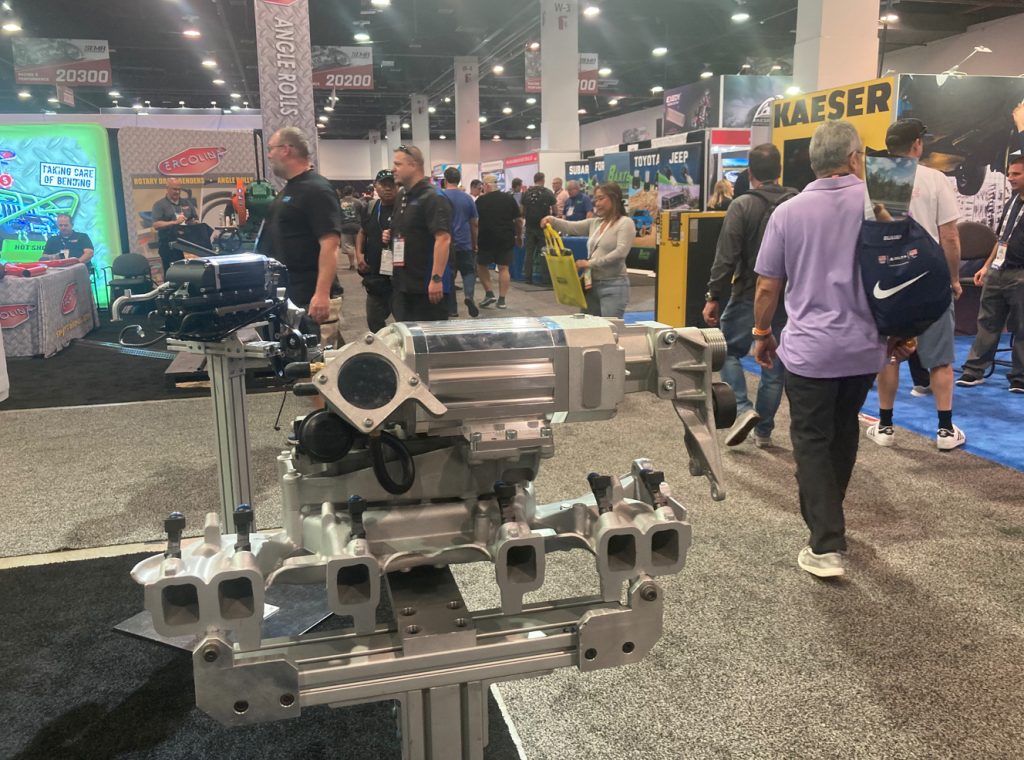 Keeping a pulse on the industry, SEMA introduced the FutureTech Studio, an exhibit dedicated to renewable fuels, hybrid technology, and EVs, but overall, the range of vendors at SEMA is going to shrink over the next 20 years, predicts Jerry Hirsch of Automotive News. As sales decline for internal combustion engines, only guys with classic cars parked in their garages will be able to work on them, Hirsch says. Even today, you almost need to be a computer scientist, not a mechanic, to work on your car, he quips. "We can't write enough about EVs. The more we write about EVs, the more people read it," Hirsch says. "What's happening with EVs is the rate of growth is slowing, not sales. It's not going backward."