A Blog by Richard Maples
As a child, the excitement around St Patrick's Day was all about the pinch and who was or wasn't wearing green. Symbolic to a leprechaun and a clover, two things were certain, I knew I needed to wear green to avoid the pinch and it was my civic duty to find those who didn't own green because it didn't work with their flesh tone…
Growing older, it morphed into a festive holiday with beer, green rivers, drinking games and the luck of the Irish. One can only imagine my surprise when I found out that St. Patrick wasn't even Irish—he was born in Brittan! The story of St. Patrick's Day is interesting and it stands as a beacon of hope to Ireland, but it's not the focal point of this post.
50 Shades of Green is my part in spreading awareness—awareness of mental health. Every May, the National Association of Mental Illness (NAMI) runs a global campaign encouraging everyone to wear green to educate and spread awareness and support of mental illness. This St. Patrick's day, I see opportunity. I challenge myself, my colleagues and my community to not only wear their green in representation of the hope St. Patrick's Day brings to Ireland, but to jump the gun on mental awareness month and wear their green now to support those who suffer mental illness.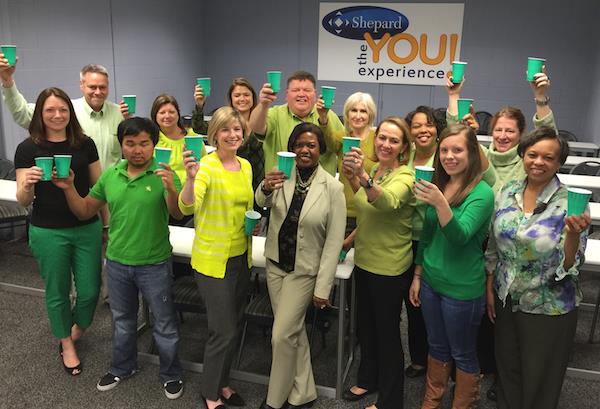 I'm lucky, no pun intended, to have a team who supports this cause with me. In this photo, you will see some of my associates wearing green and "Raising a Cup to Raise Awareness" because we believe that knowledge and education go a long way into coping with and curing mental illness.
There is often a misconception and negative stigma associated with the term "mental illness" and one of my goals is to educate my community and help to change the perception. According to the Mental Health Foundation, 1 in 4 people will experience a mental health issue in the course of a year. I specifically titled this post 50 Shades of Green because, like varying shades of a color, so are the varying types of mental illness. Mental illness has a wide array of effects on individuals from depression to disorders to incapacitating conditions. Regardless of the severity, the two things that we need to know is: 1) There is nothing to be ashamed of, and 2) There is hope!
I discovered 12 years ago that I was a 'one-in-four' when suddenly I had trouble getting back on an airplane. The fact that my job requires travel (42 flight trips last year), I knew this was going to be a problem. At first, I fought the idea of treatment as I too had formed an incorrect stigma, but eventually moved past the machismo and embarrassment and sought out help. Today, I proudly share my story in hopes it will help others in their battle with mental illness.
So as we celebrate St. Patrick's Day this year, we ask you to join us by wearing your green as a symbol of hope and "Raising a Cup to Raise Awareness."
To learn more about mental health awareness, visit National Alliance of Mental Illness at www.nami.org
Richard Maples
rmaples@shepardes.com