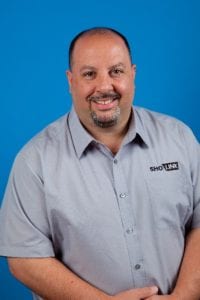 Robert Tarolla, an industry veteran for more than 24 years, has accepted the position of Las Vegas City Manager for Sho-Link Incorporated.
Tarolla began his career in the trade show industry in 1991 while attending college in Illinois. He worked at McCormick Place until he moved to Las Vegas in 1995. As a Local #631 Teamster, he worked managing high profile client exhibits at many venues in multiple states. In August 2012, he joined the Sho-Link family as the Las Vegas show foreman.
Per Tarolla, "The thing I love most about my job and the industry as a whole is the intensity and fast paced environment.  It can be very challenging at times."
Per Regional Operations Manager Jim Genzano, "We are happy to promote Robert to Las Vegas City Manager. Robert is in tune with our clients' needs and has earned the respect of the corporate staff and local workforce with his consistent work ethic and tireless efforts. Robert embodies our core values and is relentless in going the extra mile. We couldn't be happier with Robert's dedication and look forward to him leading the charge for us in Las Vegas for many years to come."
Tarolla resides in Las Vegas with his wife and three children.  He enjoys ice hockey and watching his children participate in the sport.  The family enjoys boating and other watersports.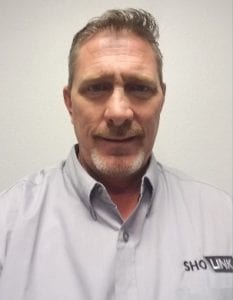 Ed Raburn joined Sho-Link May 2016 in the role of Las Vegas Show Forman. Raburn comes from the show floor where he was an installation and dismantle lead with 3 years' experience. He has a strong management background in the recycling industry where he oversaw hundreds of employees in multiple recycling facilities in the Las Vegas valley.  He has always been known for being a good quality leader and customer service oriented individual.  His strong management background will be a great asset to Sho-Link.
Per Jim Genzano, regional operations manager, "For the past three years, Raburn has been working on the show floor as a lead. He has proven himself to be knowledgeable in the business with previous experience running an exhibit shop for Southwest Displays & Events. His attention to detail is superb and Raburn has established many outstanding relationships with show floor workers and clients within the Las Vegas market.  Sho-Link is very excited to have Raburn join the Las Vegas team."
Robert Tarolla, Las Vegas city manager, states, "His passion for customer service will be a great asset to Sho-Link as we move forward".  Raburn resides in Las Vegas with his wife and two children.  For more information on Sho-Link and contact information for Robert Tarolla and Ed Raburn, please visit www.sho-link.com.