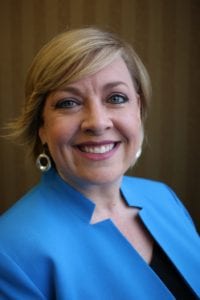 The Shreveport-Bossier Convention and Tourist Bureau is pleased to announce that Gina dePingre' (pictured right) has been hired as a sales and service coordinator. DePingre' will support the convention and tourism sales department in selling Shreveport-Bossier's group tours, convention and meeting space and 10,000 plus hotel rooms. The team attracts new business and maintains client relationships through direct sales, customer and facility relationships, trade shows and client events.
DePingre' most recently worked at the Denton Chamber of Commerce in Denton, Texas, where she served as the membership director. There she oversaw programing, development, events, fundraising, and volunteer coordination with local partners. In 2008, she was honored as the Denton Business Person of the Year for her outstanding work at the Denton CoC.
"Bringing Gina on the team with her knowledge and understanding of the hospitality business is a complement to an already awesome sales force," said David Bradley, vice president of sales and services.
The Tourist Bureau offers up to $3,000 to new business clients for hosting meeting in Shreveport-Bossier through a rewards program. For more info, visit www.shreveport-bossier.org/meetings or call (800) 551-8682.