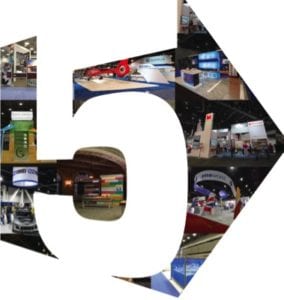 September 4, 2016 marked an important milestone in the history of Skyline Sector 5 – its 15th Anniversary, An experimental marketing firm that specializes in the design and build of branded environments for trade shows, activations and special events, Sector 5 has achieved much over its 15-year history. From exceeding its revenue every year since 2001 and receiving numerous design and corporate awards, Sector 5 has accumulated an impressive track record and is consistently recognized as one of the top event marketing companies in Texas and across the worldwide Skyline network.
Sector 5 began as a distributor of Skyline products under the name Skyline DFW Exhibits & Graphics, initially focusing on the design and fabrication of portable and modular trade show displays, from banner stands and pop-ups to inline and island exhibits. Although Sector 5 is still an elite Skyline dealer, the company has since expanded its scope to include marketing activations, special events, road shows, and custom retail environments.
In 2006, Sector 5 also added an Exhibit Management Program, which coordinates every aspect of its clients' events, from asset storage, event research and paperwork, to logistics, installation & dismantle, reconfigurations and refurbishment. In light of these changes and its steady growth, the company purchased over 60,000 square feet of office and warehouse space in Arlington, TX and launched its new brand, Skyline Sector 5, in 2014.
"We chose to rebrand because we realized that our name at the time, Skyline DFW Exhibits & Events, no longer reflected our unique company identity, especially since we now partner with our clients globally and not just in the DFW area," said Jeff Meisner, CEO of Sector 5. "The term 'Sector 5' also speaks to a five-step consultative process that our company goes through with each customer to create a purposeful space that accurately portrays that client's brand and accomplishes their specific objectives."
The brand is also indicative of the company's unique culture. "One of the things we like about the name 'Sector 5' is that it can't help but stand out, which is what we'd like to think is true of us as an organization," said Meisner. "Our philosophy from the beginning was if we hire great people, we would be able to achieve amazing results. Our people are hard working, bright and come from a variety of diverse perspectives, which makes for a fun work environment. Their dedication to boldly providing legendary service is the reason we've been able to accomplish so much over the last 15 years."
One of the hallmarks of Sector 5's culture is the company's dedication to serving its community. "Part of our Prime Directive, or mission, is to build purposeful experiences for our community, so we actively look for ways to get involved and help out wherever we can," said Jeff Meade, president. Sector 5 has supported many different organizations over the years through donations, sponsorships and/or volunteer hours. Some of those organizations include TangoTab, Arlington Food Bank, Women Called Moses, Arlington Life Shelter, Carter Blood Care, Airline Ambassadors and Good Samaritans of Garland. The company is also a longtime sponsor of American Airlines Sky Ball, which raises support for U.S. veterans and their families.
"We couldn't be prouder to celebrate 15 years of building purposeful experiences for our clients, crew and community," said Meisner. "We can't wait to see what the next 15 years will hold."
Sector 5 offers portable, modular and custom-made spaces that are backed by the company's consultative process and more than 15 years experience in the event marketing industry. In addition, Sector 5 provides in-house design, event management and installation and dismantle services as well as premier rental spaces to meet all of its clients' needs. As the recipient of numerous design and corporate awards, Sector 5 is consistently recognized as one of the top event marketing companies in Texas and across the worldwide Skyline network.
For more information, drop by skylinesector5.com.