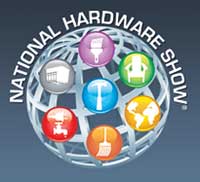 The Las Vegas Convention and Visitors Authority (LVCVA) announced in May the National Hardware Show, produced by Reed Exhibitions, has leased space at the Las Vegas Convention Center through 2016.


"We are very happy to be extending our relationship with the National Hardware Show for another six years," said Rossi Ralenkotter, president and CEO of the LVCVA.  "This shows their confidence in Las Vegas as a successful place to do business."
The top annual show for the hardware industry attracts approximately 30,000 delegates, which will provide a boost of $170 million to Las Vegas over the next six years.
"Reed Exhibitions values the relationship that we have with the Las Vegas Convention and Visitors Authority for the National Hardware Show and for the nine other events in our portfolio that we bring here each year," said Chet Burchett, president, Reed Exhibitions Americas. "Delivering customer value is paramount to us and the LVCVA works hard to support our efforts."
This year marks the 65th anniversary of the National Hardware Show, which is completely sold out of exhibit space to manufacturers from the home improvement, lawn and garden/outdoor living, tailgating and other key industries. The list of attendees promises to be one of the strongest line-up of buyers, representing not only traditional retail and wholesale outlets but untraditional channels like grocery, mass, drug, catalog, Internet and international retailers.
Las Vegas tradeshows have shown improvement in the first quarter of 2010, with several events recording increases in attendance.  The Consumer Electronics Show, the CTIA Wireless Show, and the National Association of Broadcasters all recorded increases of 6 percent or better.
Looking ahead, the Las Vegas convention scene shows positive signs. In the past year, the LVCVA has booked 50 new shows at the Las Vegas Convention Center that will attract 800,000 delegates and contribute more than $1 billion to the local economy over the next five years.