Reflected in the number and quality of Hosted Buyers headed to the second edition of IBTM India, part of Reed Travel Exhibition's IBTM Global Events Portfolio, is the importance of the Indian outbound and inbound MICE market. Taking place on Sept. 3-5, the event returns to the top rated business destination of Chennai.


An exhibitor at IBTM India 2013, Vienna Convention Bureau Tourist Board Marketing Manager Verena Jandak, CMP, is exhibiting again this year.
"Chennai as a MICE destination has great potential and it has not yet been used much for any other meetings industry events; that is why I consider this a smart move!" commented Jandak.
According to the Euromonitor International Report "Passport Flows Inbound and Outbound India," India's businesses are fast becoming more international and increasingly seeking new and unexplored destinations across the globe for MICE and business travel. In 2012, MICE and business travel accounted for 32 percent of all outbound travel, totaling 4.9 million trips, which is set to increase by an estimated 62 percent by 2017.
Also highlighted in the report is the rapid development of India's MICE facilities along with easy access from worldwide destinations. Inbound MICE and business travel in 2012 accounted for 41 percent of all inbound travel, totaling 2.9 million trips, and is expected to increase approximately 73 percent in 2017.
IBTM India is providing 50 Indian and 50 international suppliers the opportunity to showcase their products and services in an exclusive tabletop environment. An audience of 100 Indian and international Hosted Buyers will attend from associations, major corporate organizations and third party MICE agencies.
"Exhibiting at IBTM India is a time efficient and cost effective way for MICE and business travel suppliers to achieve their company objectives, they will be able to generate new sales leads, enter new markets, increase brand awareness and save time and money by receiving up to 36 pre-scheduled appointments, through a mutual matching system, with top level buyers in 2.5 days of focused business, networking and education," stated Shinu Pillai, project manager – IBTM India and Africa, Reed Travel Exhibitions.
"As the world's largest organizer for meetings and incentive exhibitions, we are committed to providing all of our attendees with the best level of return on investment for their participation."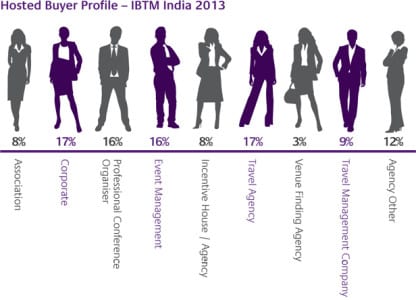 Indian and international Hosted Buyers have confirmed an annual average budget of up to $7 million each.
"I understand IBTM events are the leading global events for the meetings and events industry, taking place in many key destinations globally. As a MICE specialist company we have always found the IBTM portfolio to be very helpful in increasing our MICE business and networking with suppliers," shared qualified Hosted Buyer Kapil Arora, director, MICE of Travel Wizard. "We are very much looking forward to attending this year's show."
For more information on IBTM India, visit ibtmevents.com/ibtmindia or email ibtmindia@reedexpo.co.uk.
See related article:
IBTM India accepting buyer applications