Sweet Adelines International has returned to Las Vegas now through October 22 to host its 70th Annual International Convention and Competition at the renowned MGM Grand Hotel and Casino. Sweet Adelines International's members are women who excel in singing the distinctive musical art form of four-part a cappella barbershop harmony.
More than 40 quartets and 40 choruses are preparing to take the stage for five days of awe-inspiring, spine-tingling performances. Competing choruses hail from six countries and range in size from 26 to 143 members.
The week began on Saturday, October 15 with the International Young Women in Harmony Festival, a free-of-charge event for young female singers to learn the elements of four-part a cappella singing. Leading up to the competition, educational workshops, training seminars and public performances are also on the schedule of events.
The competition commenced on Tuesday, October 18 with Harmony Classic featuring the top small and mid-sized choruses. Harmony Classic attendees should expect to see competitors in costumes – everything from Egyptians to felines have graced the stage in previous years. The International Quartet Semifinals will begin on Wednesday, October 19 at 10:00 a.m. and 10 quartets will move on to compete in the finals. The 2016 International Champion Quartet, Speed of Sound, will crown the incoming champion at the culmination of Quartet Finals on Friday, October 21. The Chorus Semifinal Competition begins on Thursday, October 20 and 10 choruses will advance to Chorus Finals on Saturday, October 22. The 2016 International Champion Chorus, Scottsdale, will present the title to the 2017 champion.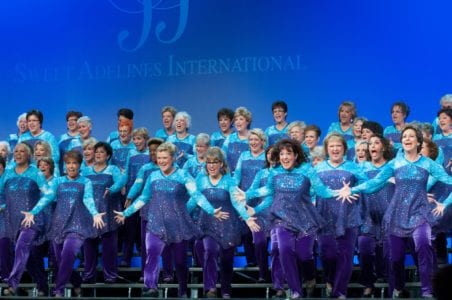 Sweet Adelines International is a worldwide organization of women singers committed to advancing the musical art form of barbershop harmony through education, competition and performance. Sweet Adelines International is one of the world's largest singing organizations for women, with membership of almost 23,000 and choruses and quartets across the globe. Its members have been singing four-part barbershop a cappella harmony since 1945.
At right, the 2016 International Champion Chorus – Scottsdale.
The prestigious competition will be viewed by nearly 7,000 in attendance and by thousands of viewers around the world via the live webcast at www.sweetadswebcast.com.