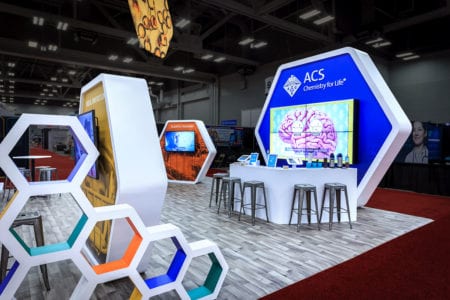 Creative design and an innovate exhibit drives traffic to ACS booth
T3 Expo, a general contractor for tradeshows and corporate events, recently announced that it has been supporting the American Chemical Society with tradeshow and booth construction and development. Most recently, T3 Expo designed the organizations exhibit at South By Southwest event, or as it is better known as SXSW, which took place last month in Austin, Tex.
The event, created in 1987 to showcase creativities and to help bring together all kinds of industries and thought leaders, has proven time and time again that the most unexpected discoveries happen when diverse topics and people come together.
"At the core, SXSW is for creative people and for sharing once-in-a-lifetime experiences," said Chris Young, chief creative officer, T3 Expo. "ACS allowed us to combine the creative nature of the show with what they do, ultimately making chemistry together—and making chemistry cool."
ACS, founded 140-years ago at New York University, is headquartered in Washington, DC and has 158,000 members at all degree levels and in all fields of chemistry, chemical engineering and related fields. The organization asked T3 Expo to help transform its booth at the SXSW show to demonstrate how it has been improving people's lives through the power of chemistry and scientific inquiries in the field.
"T3 Expo put together a fantastic booth for us at SXSW this year. We had so many people at the show snapping pictures of the booth and numerous compliments throughout the show. It was a huge success for us" said Amelia Grana, manager, product development at American Chemical Society. "T3 Expo should consider it a huge success as well."
Creating sharable moments are what T3 Expo is all about. In today's digital/social world, creating an event experience that people can come and see, touch, test and discuss the latest trends and technologies is what make experiences exceptional.
"ACS will continue to use T3 Expo and elements of this booth for several of our other events this year, and we are confident that it will have the same 'wow-factor' and impact that we experienced at SXSW."
T3 Expo was founded on the mission to implement creativity and applied innovation into everything it does for its clients. T3 Expo is also the company that brought the industry Presta, a magnetic panel system that allows exhibitors to clip, snap and install panels to a 20-foot wall in six seconds. It also recently just launched T3 Tracker, a new app that uses RFID technology and picks up where mail carriers leave off at the tradeshow convention center to locate packages, boxes and event materials.
T3 Expo defines, develops and delivers what is needed for event managers to better manage what exhibitors want and attendees dream. T3 Expo has scores of Eventgineers, who apply their collective experience each and every day to redefine the design, development and delivery of events around the world.
T3 Expo's Eventgineers can rebrand entire events overnight or apply their decades of experience to save clients planning and production headaches. With the use of T3's Presta technology, T3 Eventgineers are able to work with clients to create an event space that is needed to foster important ideas and sharable moments.
All trademarks, service marks and company names are the property of their respective owners.