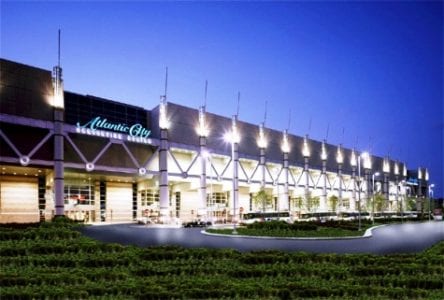 Las Vegas may be one of the nation's greatest meeting destinations, with its millions of square feet of convention space, glamorous hotel-casinos and endless entertainment choices. But you have to admit that the desert has one drawback: all beach; no ocean.
Atlantic City, on the other hand, offers the flavor of Las Vegas mixed with saltwater taffy. In this historic locale, five miles of boardwalk still entice millions of annual guests to stroll, bike or ride in rolling beach chairs and enjoy the fusion of glittering lights and glistening oceanfront.
Atlantic City has a colorful past, but one of the prominent colors on display in AC these days is green. The city boasts a location that is within a few hours drive of nearly one-third of the nation's population and 20 percent of the country's business addresses, and the NJTransit Rail Terminal is located within the Atlantic City Convention Center. All of these factors mean that a sizable number or attendees won't have to travel far, thereby reducing a show's overall carbon footprint.
Like most convention centers across the nation, the ACCC is intent on greening its game. It is a founding member of the Convene Green Alliance and has coordinated its own "Green Team" of multidisciplinary professionals who are tasked with advancing five key objectives: Energy Efficiency; Recycling; Water Usage; Client Communication; and Preparation for Future Composting.
In 2009, with assistance from the Casino Reinvestment Development Authority, the Center installed what was then the largest single roof-mounted solar array in the United States. The rooftop array has since provided more than a quarter of the facility's electrical consumption and is anticipated to save the ACCC nearly $4.4 million by 2029.
In a city known for its diverse population and multicultural heritage, the ACCC is also proactive about facilitating successful multicultural meetings and events. Two events slated for the coming year include the Black Chief Officers Committee Conference and the North America Bengali Conference.
For planners inclined toward capitalizing on AC's historic charm, Boardwalk Hall (formerly the Atlantic City Convention Hall) offers a stunning alternative. Built during the city's heyday in 1929, the Hall has hosted many notable events and was listed on the United State Register of Historic Places as a National Historic Landmark in 1987. The facility underwent a $90 million renovation beginning in 1998, which earned it nine architectural and engineering awards. The arena now seats up to 14,770 people and can accommodate a variety of events including hockey, basketball and boxing, as well as conventions, concerts and shows. A second venue, the 23,100 square foot Adrian Phillips Theater, features a house stage, an original Kimball pipe organ and an open air loggia that offers dazzling views of the Atlantic Ocean.
Personally, I love Atlantic City most for its quirky cast of characters like Nucky Thompson (of Boardwalk Empire fame) and Donald Trump. But with all respect to criminal geniuses and political masterminds of days past and present (monikers that are seemingly interchangeable in Atlantic City), AC is a great place to take a walk on the boardwalk and enjoy all the virtues of a green convention destination.
Green Quote:
"The sea, once it casts its spell, holds one in its net of wonder forever." –Jacques Cousteau