by Jeanne Brei
Well, as promised, here's several more photos from the tradeshow at EXHIBITORLive–plus some of the talk from the floor, which includes the news that the new owner of EXHIBITORLive (The STAR Groupe CEO Mark Johnson) has decided to cancel the 2023 show in Louisville and just wait until 2024 to bring the show back to Las Vegas. A few folks were disappointed by the news–because they were looking forward to going somewhere they hadn't been and to doing one of the bourbon tasting tours that Louisville is famous for.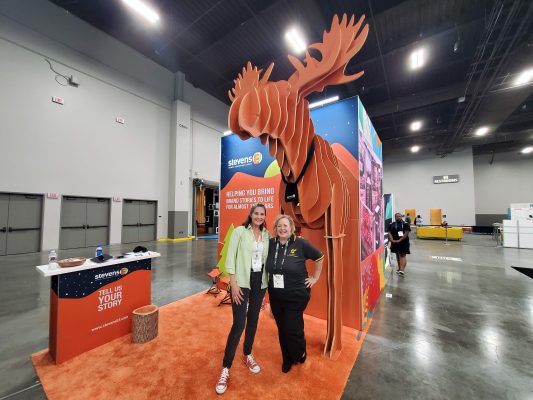 First, regarding the "moofie" mentioned in the last column–that's a selfie or photo featuring the moose from the StevensE3 booth – (see picture right with myself and Rebecca Thompson). And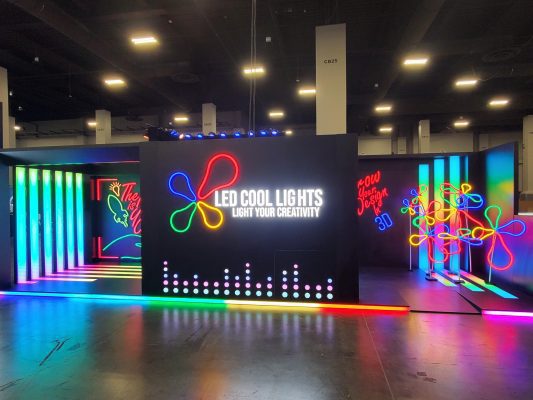 Mel White from Classic Exhibits found himself "blinded by the lights" of surrounding booths – including the LED Cool Lights (pictured left) booth that you could walk through and be dazzled by the possibilities. Across the aisle, Rob Cohen from Display Supply & Lighting was demonstrating his new replacement for shrinkwrap–an environmentally-friendly blue tape that expanded during its demonstration at the Taylor (formerly Optima Graphics) cocktail party to "wrap up" around a dozen party attendees.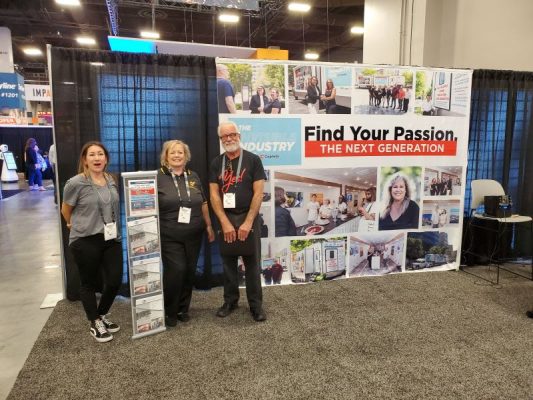 Several associations and the non-profit National Trade Show Alliance were all on hand to promote the services they provide to the members of the tradeshow industry. NTSA had just finished debuting its 49-foot Triune expandable Quad-X mobile trailer, powered by software provider Captello's platform of CRM, sales enablement and marketing automation solutions, and a suite of interactive gamification experiences enriching the tour experience, increasing engagement, and helping to build NTSA's growing network, at the Global Exhibitions Day in Washington, D.C. in early June.  Being driven by BrewCo's professional drivers, NTSA decided to keep the trailer on the east coast while the gas prices are still soaring with plans to head to Philadelphia and Florida to introduce the next generation of trade show workers to the industry. The NTSA ExhibitorLive booth featured photos from the successful debut of the trailer in D.C. (pictured right with Sallie Colas, Jeanne Brei & Drew Powers from 4 Productions).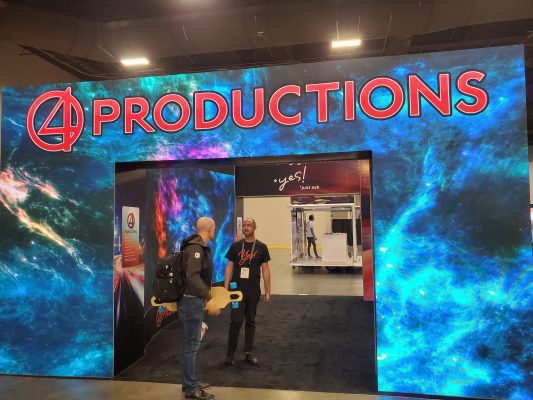 More highlights from the show floor included fabulous free massages from the I&D labor OnLocation booth (pictured above, top of the column) and the well-attended and extremely informativetech tours made stops at several booths for in-depth explanations of not only what the exhibitors were exhibiting but how they worked as well. Pictured left is the 4 Productions booth with their curved LED walls that utilize both beMatrix and Aluvision frames and the very colorful Aluvision booth is pictured below.