by Jeanne Brei
Happy new year! There's so much going on as business is back and booming in 2023. Las Vegas is "gearing" up as CES (Consumer Electronics Show) runs Jan. 5-8 with more than 100,000 registered to attend this year (more than double last year's attendance but still down from the 180,000 attendees in 2019). The holiday lights remain aglow in Denver—a tradition dating back more than a century—as the National Western Complex and Denver Coliseum is set to welcome the National Western Stock Show from Jan. 7-22. The 117th annual show includes a rodeo, livestock show and a fair and last year saw nearly 600,000 attendees from 40 states and 30 countries over the 16-day celebration. Meanwhile, in San Francisco, despite all the rains and flooding, the Biotech Showcase is at the JPM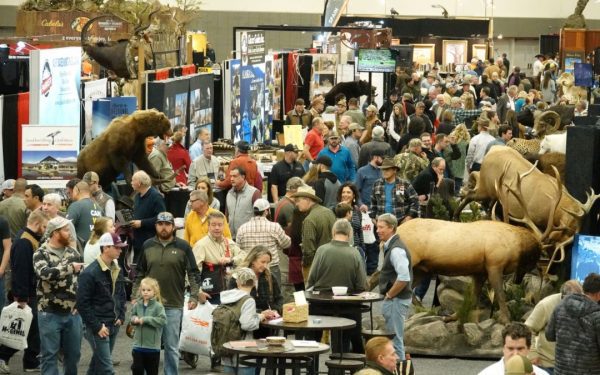 conference from Jan. 9–11. More than 30,000 sportsmen and sportswomen from throughout Texas, the country and world attended the four-day DSC Convention & Sporting Expo (pictured right) from Jan. 5-8, featuring more than 1,800 exhibits at the Kay Bailey Hutchison CC in Dallas. They're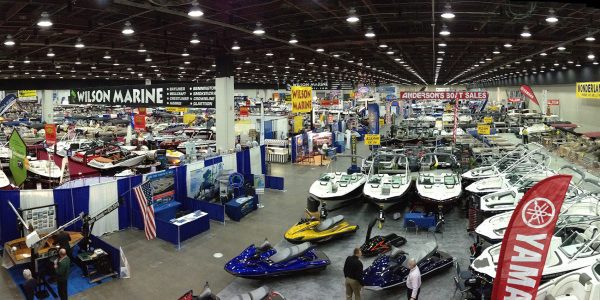 already hanging signs and getting ready for the 65th annual Detroit Boat Show (pictured left) at Huntington Place with the show running Jan. 14-16 & 19-22 while Chicago's Boat, RV & Sail show runs Jan. 11-15. Salt Lake City is prepping for the Snow Show (Outdoor Retailer) from Jan. 10-12, Topeka has the Farm Show from Jan. 10-12, and Atlanta has Market Week from Jan. 11-15. Orlando kicked off the new year from Jan. 4-6 with the ASI (Advertising Specialty Institute) Show featuring the $23.2 billion promotional products industry while the PPAI Expo – Promotional Products Association International will be Jan. 9-12 in Las Vegas. A true I&D favorite, World of Concrete, will be Jan. 17-19 in Las Vegas and is debuting Work Truck Live!, an all-new experiential initiative designed to showcase the innovations in a contractor's most important asset, trucks. The dedicated exhibit area in Central Hall, presented by Modern WorkTruck Solutions, will highlight innovations in the design and configuration of work trucks and innovative accessories that will help contractors increase safety and productivity. Whew! And that's just a few of the shows that are running this month.
Finishing up the news from IAEE's super productive and successful show last month, the Exhibition Services & Contractors Association's Winter Awards Celebration & Reception was held on Dec. 12 at the Louisville Palace Theater. The honorees included:
Outstanding Service Award: Sheila LeMaster, CMP, VP of Exhibitor Services at GES – Global Experience Specialists
Volunteer of the Year: Debbie Rorabaugh, Executive Director of Operations at CORT
Innovation Award: SMT expo Systems
Humanitarian Award: UFI, The Global Association of the Exhibition Industry (accepting the award were Martha Donato and Marty Glynn, UFI's North America representatives)
Lifetime Achievement Award: Carl Mitchell, Executive Chairman at Shepard Exposition Services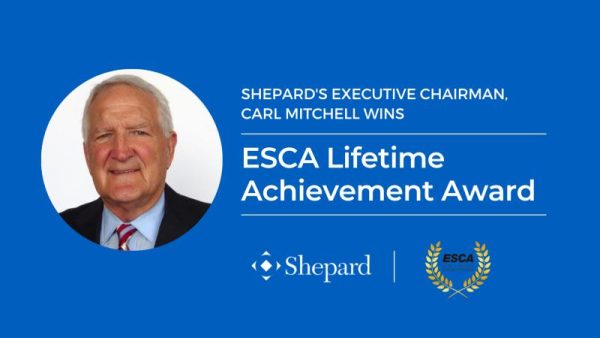 A long-time member of ESCA, Lifetime Achievement winner Mitchell served as president of ESCA for two previous terms. He started his career in trade shows in Atlanta with Manncraft in 1971, and then was appointed VP and general manager of Greyhound Exposition Services in 1976 where he moved up the leadership ladder to regional vice president of the Southeast Region in 1978. In 1982, Mitchell and then-partner Sherman Wade bought Shepard Expositions Services. He served as president of Shepard until he transitioned into the role of executive chairman. The Lifetime Achievement Award recognizes and honors individuals in the industry who are pioneers and leaders that demonstrate extraordinary contributions over a significant course of time.
UFI's "Humanitarian Award," recognized the joint work of many of their members and the UFI team in providing support for Ukrainian refugees. ESCA's President-Elect, Damon Ross, spoke on why UFI was selected to receive this award: "Across Europe, many exhibition venues, suppliers, and organizers coordinated efforts, connected through the work of the European Chapter of UFI, The Global Association of the Exhibition Industry. The UFI team connected venues facing thousands of refugees arriving with industry colleagues across the continent. Working together, our industry helped to set up and improve processes, to establish transports of supplies as well as people, to collect funds, to send staff to help each other, and many other things. As an example, at UFI's European Conference this spring in Poznan, Poland, UFI member Fondazione Fiera Milano sent a convoy of six trucks to deliver specific supplies to the Poznan fair and the local support institutions, while every participant of the conference was asked to bring stuffed animals, spare suitcases and other specific items to donate."