by Jeanne Brei
The talk on the tradeshow floor this week has been sharing photos from the DEMA (Diving Equipment Manufacturing Association) show in Orlando, the SEMA (Specialty Equipment Manufacturing Association),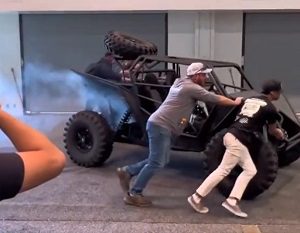 AAPEX (Automotive Aftermarket Products Expo) and Supply Side West shows in Las Vegas, FABTECH at the Georgia World Congress Center, TCI 2022 (Tree Care Industry Association, Inc.) at the Charlotte Convention Center, the 2022 APHA Annual Meeting and Expo (American Public Health Association) in Boston, and the Black Cannabiz Expo and Conference in New Orleans. A video posted on Facebook shows a display EV ATV battery fire at SEMA —click HERE to watch it being pushed out of the convention center and smoking in the parking lot.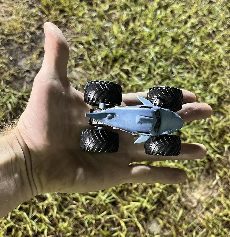 But it's the Monster Jam photos and video from Camping World Stadium in Orlando that are truly amazing as the crew earned a Guinness world record for the largest display of monster truck toys as they set up 10,005 toy monster trucks. Manufactured by Spin Master, the trucks were arranged into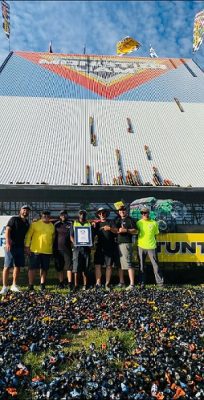 a mosaic of the Monster Jam logo and then launched from a 6,000-foot ramp into a "racing surge" of toy trucks. The toys featured miniature versions of popular monster trucks including Megalodon, El Toro Loco, Monster Mutt Dalmatian, Great Clips Mohawk Warrior, Higher Education and Max-D.
Jim Dolan, field services supervisor at Creatacor Exhibits and Displays, Inc., Saratoga Springs, NY, gave a shout out on Facebook to the Orlando-based CSI crew for installing the world record display for Monster Jam. Dolan wrote, "These guys were great to work with. Long hours but they stayed committed to get the job done. Thanks guys!" Pictured left is the crew holding the Guinness world record plaque. Click HERE to see video of the toy trucks in action!
But when it comes to truly epic photos—Las Vegas held a mini-preview of what the Formula 1 race will be like in 2023 on the Las Vegas Strip on Nov 5. One attendee wrote that by going to the F1 Las Vegas Grand Prix launch party at Caesar's Palace Las Vegas she heard "Stefano Domenicali, CEO of F1, and Renee Wilm, CEO, F1 Heineken Silver Las Vegas Grand Prix, share their excitement for their partnership and upcoming race,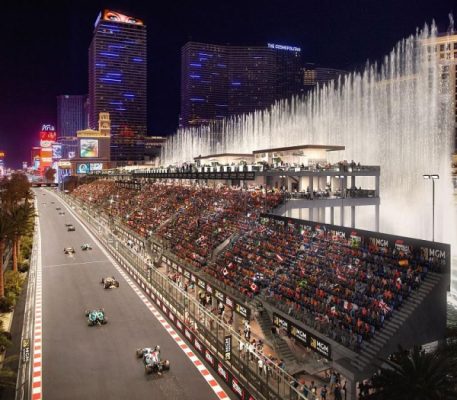 watched The Killers perform from the front row, got a 'walk-by' picture of Gordon Ramsay, and generally had an amazing time."
MGM Resorts and Caesars are both preparing for an epic time when the 2023 Formula One Las Vegas Grand Prix comes to Las Vegas from Nov. 16-18, 2023. MGM Resorts is planning to build a massive grandstand in front of the popular Bellagio fountains that will be available only to guests staying at MGM properties.
MGM opened sales to race packages that include tickets to the three-day Las Vegas Grand Prix in front of the Bellagio Fountains, and a three-night hotel stay at one of its resorts on the Las Vegas Strip that start at $2,827.
Caesars' packages also include a minimum three-night stay at one of the resort group's properties and two tickets to the race. Fans can create their own package by picking their choice tickets located in the Paddock Club, skyboxes, or Grandstands in the East Harmon Zone overlooking Turn 2, with their preferred stay at various Caesars properties and room type. The packages range from an average of $2,600 per night for a grandstand package, $8,000 per night for a skybox package and $11,500 per night average for a Paddock Club package. Sean McBurney (pictured left), regional president of Caesars Entertainment said, "We couldn't be more thrilled to be right in the center of what's sure to be one of the most exciting nights Las Vegas has ever seen. Our properties are terrifically positioned to make accessing the race, grandstands and paddocks as easy as possible."