by Jeanne Brei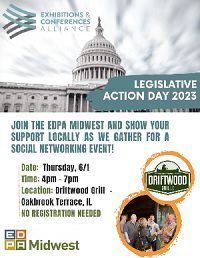 It's that time of year when thoughts turn to BBQs, pool parties, golf and lobbying? The Exhibition & Conferences Alliance (ECA) Legislative Action Day will be in Washington, D.C. on June 1 meeting with lawmakers and their staffs but even if you didn't register by May 25, you could go to EDPA Midwest's Legislative Action Day Social Event on June 1 at the Driftwood Grille, 17W648 22nd Street, Oakbrook Terrace, IL 60181 from 4-7 p.m. CDT. And if you're unable to go to either of those—you can still write letters, emails, faxes and make phone calls to your legislators.
This year's Congressional meetings  will focus on the three important issues listed below that are critical to the post-recovery advancement of the business events industry—click each link to watch quick-hitting videos (two to three minutes each) and get a short preview of what will  be talked about on Capitol Hill this year.

And just a week later, the eighth annual Global Exhibitions Day is inviting everyone to join in the celebrations and reinforce the value of the Exhibitions Industry worldwide on June 7 . IFES members are invited to provide images of themselves and their company logos to demonstrate how the power of our collective support extends across the global in support of the 2023 theme, "We run the meeting places and marketplaces for everyone."
If Golf is More Your Style…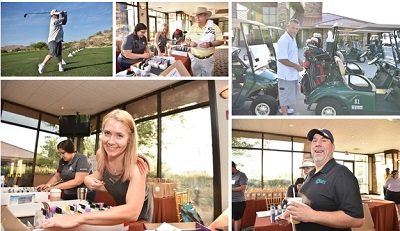 If golf is more your style than lobbying, EDPA Las Vegas is hosting its 20th Annual EDPA Las Vegas Education Scholarship Golf Classic on June 14 at WildHorse Golf Club, 2100 W Warm Springs Rd, Henderson, NV 89014, from 7 a.m.-3 p.m. PDT to support EDPA Foundation's efforts to raise scholarship money for students with families in the industry.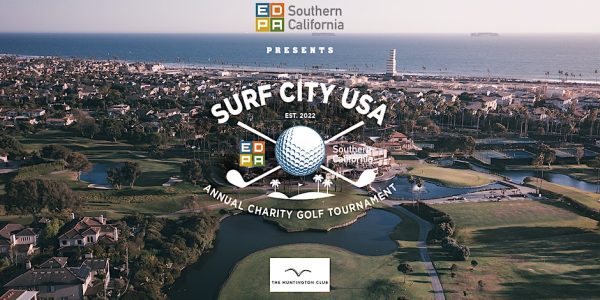 Click here to register.
EDPA Southern California is hosting its Second Annual Surf City USA Charity Golf Tournament on June 19 at The Huntington Club, 6501 Palm Ave, Huntington Beach, CA 92648. Tee time is noon with a shotgun start. Green Fees are $195 and include range balls, greens fees, golf cart, boxed lunches and a South of the Border buffet dinner. Scramble format with trophies and prizes for placing on team low combined score. Awards and golf raffle presented at dinner. Click here to register.
If You Prefer Your Networking to be Indoors…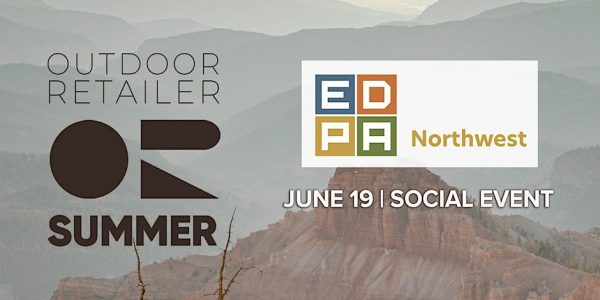 EDPA Northwest is hosting a Networking Social & Bonus Behind the Scenes Tour at Fusion Imaging on June 19 in Salt Lake City, Utah. The Behind the Scenes Tour at Fusion Imaging will be at 2 p.m. MDT, followed by social networking Happy Hour at a downtown SLC venue TBD from 4:30-6:30 p.m. Many people will be visiting SLC for Outdoor Retailer and traveling in for this event. Out-of-towners are invited to get to know those in the Salt Lake area.
Click here to register. And EDPA Texas is hosting its monthly Trivia Night on June 14, 5-6 p.m. CDT with a Future Workforce Challenge on Zoom. Sponsored by Classic Exhibits, click here for the registration link; the Meeting ID is 869 5177 0992 and the passcode is 264690. Free for all, email Noelle.Webster@willwork.com for a calendar invite. The winner takes home a $50 Amazon gift card.
If You Prefer to Spend Your Free Time Learning…
EDPA Northeast is hosting a Virtual Meeting on June 5, 4-5 p.m. EDT, with a Virtual Panel Discussing Current Shipping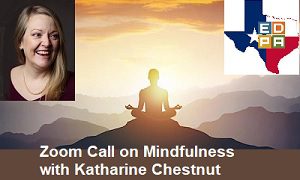 Trends. Survey Link: https://loom.ly/r-kNqnE . The registration link is coming soon. And EDPA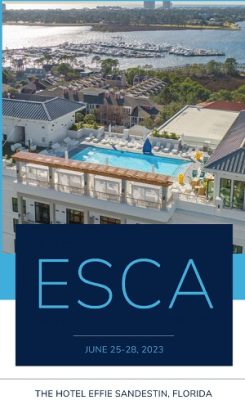 Texas chapter is also continuing its mental health series and will be  welcoming the amazing Katharine Chestnut to speak on "Mindfulness & How it Pertains to the Exhibit & Events Industry" on June 6, 2-3 p.m. CDT on Zoom. During this event Katherine will guide us through what mindfulness is, a short meditation, practicing mindful journaling (bring a journal or a notepad), and discuss how we can apply mindfulness on and off the show floor. The event is open to all EDPA members. Click here to register.
Registration is still open for ESCA's Summer Conference to be held June 25-28 at Hotel Effie in beautiful Sandestin, Florida. ESCA's Summer Educational Conference offers programs designed to showcase the latest trends in the industry, network with your peers and make new contacts. Click here for more info.

Also, the Professional Convention Management Association (PCMA) has launched Project Spark to Uncover Practical Applications of Generative AI.  PCMA and CEMA President and CEO, Sherrif Karamat, CAE and Gevme CEO, Veemal Gungadin, describe Project Spark as a complimentary research and educational initiative to uncover the impact of generative artificial intelligence (AI) on the business events industry.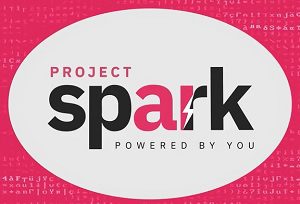 The AI model will be tested for various practical applications within the scope of business events to understand its impact on workforce productivity. Project Spark, in its first phase, offers business event strategists access to a generative AI platform designed to increase efficiency in achieving event goals and is supported by educational content and engagement sessions to aid in the learning process. This is complemented by an online community to foster collaborative research evolution. To join the community waitlist for this transformational initiative, visit Project Spark .