Extraordinary Food, Fabulous Events & Productive Networking & Learning
by Jeanne Brei
I just arrived back from a fantastic week spent in Louisville, Kentucky at The International Association of Exhibitions and Events® Expo! Expo! show.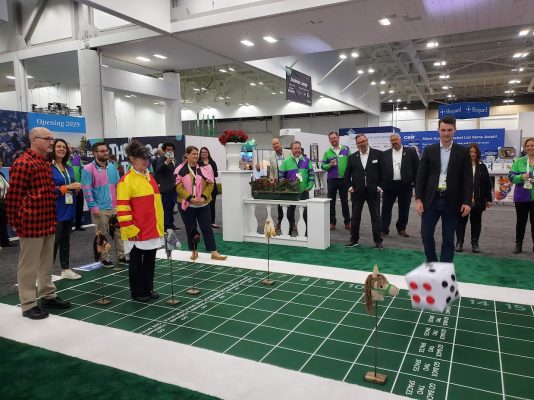 Louisville's hospitality was front and center as attendees were treated to delicious, southern cooking served complimentary on the show floor, complimentary hats made to order—from fedoras to fascinators to big floppy hats (attendees were able to pick the color and style of the hat and then choose the ribbon and bows/flowers to be glued onto it) to wear to the marvelous opening reception at the home of the Kentucky Derby, Churchill Downs. Complimentary shuttle buses were provided for all attendees.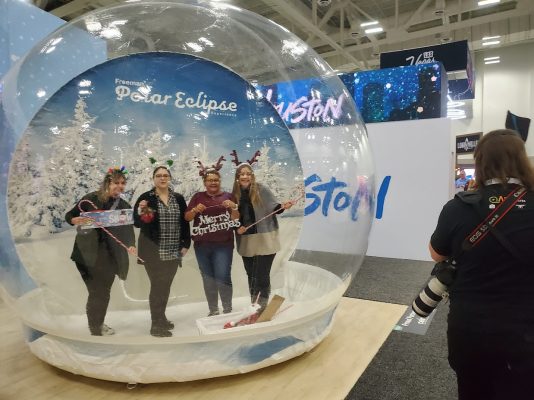 The tradeshow floor was filled with CVBs and tradeshow suppliers, I&D companies, software solution providers and much more as the networking opportunities seemed boundless. Imaginative booths included everything from the GES' "horse" races to Freeman's interactive Polar Eclipse photo opportunity and the 49-foot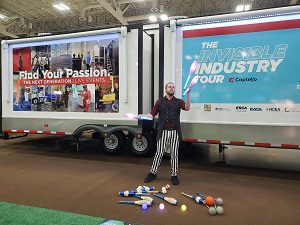 Triune Quad-X mobile exhibit trailer from the Invisible Industry Tour parked on the show floor at booth 343. Classes and lectures provided ample time for productive learning and everyone raved about the fantastic food provided by Levy Restaurants/ Kentucky Venues. Rather than just two tables of catered food mirrored on each side of the show floor, the IAEE show floor had food choices that stretched from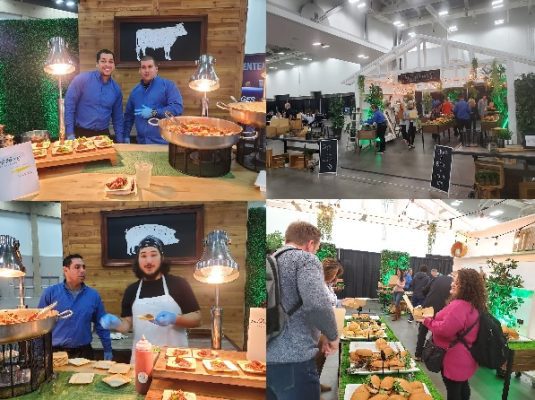 one end to the other—from BBQ chicken and pork served with candied beets and fried green tomatoes, to beef sandwiches, three varies of skewers (including tofu), three varieties of macaroni and cheese, and a Green House where you could make your own salad, beginning with rice and ending with several choices of meat being grilled on the show floor–including hen, flank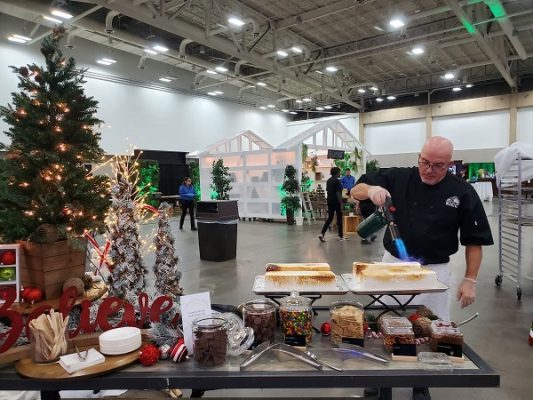 steak and more. And that wasn't all! The dessert stations were also incredible—including Derby pie, chocolate dipped fruit, s'mores made to order (the chef was blowtorching the marshmallow–which made for an awesome presentation), and so much more. And that was all for just one day! Nearly a dozen stations (including desserts and southern-style lemonades) of completely different offerings were provided each day–the second day featured a Bento box station so you could make your lunch and take it with you since the show floor closed early at 1 p.m. for tear down.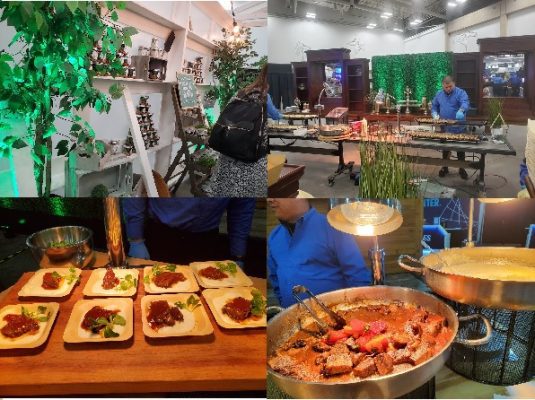 When asked about their amazing catering, Levy's Senior Communications Coordinator Tyler Schultz explained, "Many things went into making this event special, including cross-team collaboration. We worked closely with our Louisville Tourism and Kentucky Venues partners to understand our guests' preferences and what kind of menu they would enjoy. From there, our talented team of chefs created a fantastic menu focused on variety, quality, and presentation, delivering fun and interactive experiences for our guests. We always look to find and set innovative trends in the food and beverage space at Levy. This idea (of blowtorching the marshmallows for s'mores next to the gingerbread house display) came straight from our pastry chef, Irene O'Shaughnessy. It feels extra special when we get to put our team's creative ideas on display, so seeing her vision come to life was incredibly gratifying." He added, "Whether we're catering a private event for a corporate client or serving thousands of attendees for an association event, our goal is always to make it an unforgettable experience. We look for ways to craft a food and beverage experience that is unique and reflects the spirit of each event."
If you're wondering why the show floor was buzzing about the catering, here's the menu for the two show days for IAEE:
Day 1
River City Green House
Kentucky Cobb Salad: Tomato, egg, cucumber, onion, blue cheese, avocado ranch
Midwest Corn and Potato: Fingerling potato, blistered Midwest corn, poblano peppers, local cheddar cheese
Grain Bowl

Grain: Quinoa and Brown Rice
Veggies: Spiced cauliflower, cider braised beets, brussels sprouts, pickled red onions, charred broccolini, pickled carrots, corn, roasted butternut squash, spinach, tomato
Protein: Salmon, flat-iron steak, jackfruit
Finishings: Toasted pepitas, green onions, roasted black walnuts, goat cheese
Sauce: Peanut sauce, cucumber-yogurt, kale
Gateway to the South
Local Pulled Pork Shoulder: Served over sorghum corncake with bourbon tomato glaze
Joyce Farms Spatchcock Chicken: Served over sorghum corncake with bourbon tomato glaze
Fried Green Tomato: Served with black-eyed pea relish, roasted red pepper coulis
Hearty Brick Oven
Hot Melt(s) #1: BBQ brisket, pickled red onions, cheddar cheese
Hot Melt(s) #2: Buffalo cauliflower, blue cheese, slaw
Pimento Cheese with Bacon
Dill Pickle Chips
Protein Cuisine:
Street tacos

Protein: Chicken, beef
Accompaniments: cilantro-lime slaw, Calabrian chili crema

Yellow Tomato Gazpacho
Bakeshop
Derby Pie: Chocolate, walnuts, pastry crust
Banana Cream Pie: Bavarian custard, caramelized banana, Nila Wafer crumble
Modjeskas: Marshmallow, caramel, sea salt
Warm Bread Pudding Bites: Bourbon créme Anglaise, toasted pecans
Day Two
River City Green House
Bardstown Road Market Crudité: Mini carrot, snap peas, baby radish, bell pepper, heirloom tomato, vegan dill dip
Fall Farro Salad: Steamed farro, Tuscan kale, butternut squash, cranberries, maple-Dijon dressing
Build Your Own Bento Petite Sandwiches #1: Shaved sirloin, red dragon cheese, baby arugula, balsamic-charred red onions
Build Your Own Bento Petite Sandwiches #2: Napa Smoked Chicken, celery, onions, dried grapes, toasted almonds
Potato Salad
Chips: Black pepper & sea salt kettle
Gateway to the South
Marksbury Beef Short rib: Served over Weisenberg cheese grits
Pulled Jackfruit BBQ: Served over Weisenberg cheese grits
Southern Roasted Beets: Mache, Marcona almond, citrus, white Balsamic vinegar
Custom Brick Oven:
Foraged mushroom & arugula
Plant-based Caprese: Basil pesto, vegan mozzarella, bell pepper, nutritional yeast, Balsamic vinegar
Chef's Custom Flatbread
Protein Cuisine
Chicken Souvlaki: Served over warm pita and bulgur salad with Benedictine sauce
Pork Souvlaki: Served over warm pita and bulgur salad with Benedictine sauce
Tofu Souvlaki: Served over warm pita and bulgur salad with Benedictine sauce
Bakeshop
Croquembouche: Cream puffs, caramel
Chocolate Dipped Birch Trees: Peach wood-smoked bacon, dried apricots, macarons, wafer cookie, dried pineapple, sliced orange
Gimme S'mores: Flame roasted giant marshmallow, chocolate, pretzel, graham cracker, fresh berries, fudge strips, Nutella spread, mini M&Ms, toasted coconut, mini Reese's cups
In addition to the outstanding catering and great networking on the show floor, the 2022 IAEE Awards, which recognize outstanding contributions by IAEE members and member companies, were also presented during the week. "We received excellent nominations for IAEE members who make extraordinary differences in our association and our industry," says 2022 IAEE Awards Committee Chairperson Daniel McKinnon, CEM. "On behalf of the Awards Committee, I congratulate this year's award winners and thank all IAEE members who took the time and effort to put forth their recommendations."
The Pinnacle Award: Walter M.S. Yeh, most recently served as President and CEO of TAITRA, the government agency which promotes trade development and exhibition promotion in Taiwan
Distinguished Service Award: Bob Schuler, Senior Vice President, Event Sales and Operations for International Market Centers & LIGHTFAIR International
Chapter Merit Award: Tara Allen, CEM, Account Director, Freeman; Stephenie Hawkins, CEM, Director of Event Production, Informa Tech; Ronika Nash, CEM, Strategic Partnerships Director, Texas Society of Association Executives; and Sydney Rhea, CEM, Senior Event Operations Manager, Informa Markets Limited.
Bob Dallmeyer Educator of the Year Award: Dr. Kristin Malek, CMP, CED, DES, CHE, Assistant Professor/Event Management Extension Specialist, University of Nebraska, Lincoln
Volunteer of the Year Award: Bob Hancock, Director of Event Services, Jack Friday LLC
Innovative Business Solution Award: American Association of Orthodontists Events & Education Team
Outstanding Marketing & Sales Award: Lisa Lazzaretto, Director of Corporate Relations and Exhibition Services, Radiological Society of North America and the RX | JCK Sales & Marketing Team
Young Professional of the Year Award: Elizabeth George, CEM, Event Lead, Content & Programming, Healthcare Information and Management Systems Society (HIMSS)
The Pinnacle Award was established in memory of the late Founder and Past President of IAEE (formerly NAEM) William Hunt Eisenman and is presented by IAEE in recognition of extraordinary achievement in the exhibitions and events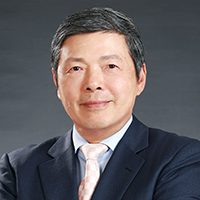 management field. Yeh (pictured right), who most recently served as President and CEO of TAITRA, the government agency which promotes trade development and exhibition promotion in Taiwan, has also been at the helm of other industry associations such as the Taiwan Exhibition & Convention Association (TECA) and the Asian Federation of Convention & Exhibition Associations (AFECA) with distinction. In addition to his contributions to the exhibitions and events industry on a global scale, Yeh's contributions to IAEE include acting as a conduit for the CEM Learning Program's success in Taiwan, as well as supporting IAEE's overall presence in the MICE industry for that region.