(Pictured above: The Distillery at the Underground speakeasy at the Mob Museum)
The D.E.A.L. (Dining, Entertainment, Attractions & Lodging)

Las Vegas Speakeasies are Leading the Way Out of Lockdown
by Jeanne Brei
Las Vegas entertainment took quite a hit from more than a year of lockdowns and mandated occupancy limitations. In early 2020, there were about 150 ticketed shows to choose from every night and a year later, it was fewer than 40. Most producers waited until the 12-foot distancing moat from the stage and occupancy limits were lifted to reopen their shows. But some shows will not be returning, including Le Reve and Cirque du Soleil's adult-themed Zumanity. In addition, Caesars Entertainment decided to close six smaller theaters that hosted a dozen shows that are now scrambling to find new homes, including Chippendales at the Rio, Crazy Girls & Tenors of Rock at Planet Hollywood, X Rocks at Bally's Back Room, the Anthony Cools Theatre at Paris, the Bronx Wanderers at Harrah's, and Wayne Newton & Dionne Warwick at Cleopatra's Barge.
For more than a year, the governor decided that only "ambient music" would be allowed—which seemed to be defined by not allowing the performers' names to be advertised and the audience's chairs weren't allowed to face the stage or the musicians (or the venue would be fined). For months it was similar to Prohibition when you had to furtively share where your favorite entertainers were performing.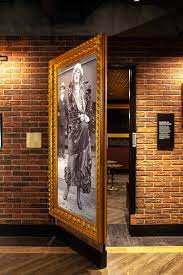 This seemed to lead to speakeasies becoming popular, several requiring passwords to get in. My favorites include the Underground at the Mob Museum downtown (pictured left and above—their daily password can be found on their Instagram account) and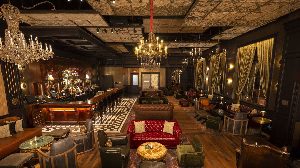 Barbershop Cuts & Cocktails (pictured right), a hidden room behind a barbershop at the Cosmopolitan. When you are let in the door, it feels like you're walking into a movie set of the 1930s with a small stage, live musicians and a beautiful bar. The Cosmopolitan has a second speakeasy—a hidden, secret tequila bar called Ghost Donkey that has no signage or storefront and can be found in the Block 16 food court, across from Holsteins. The vibe immediately changes as you enter the intimate space which has only 10 bar stools and seating for another 10-15. Opened daily from 4-midnight (2 a.m. on Fri. & Sat.) for those "in the know" who know to look for a door with a donkey on it.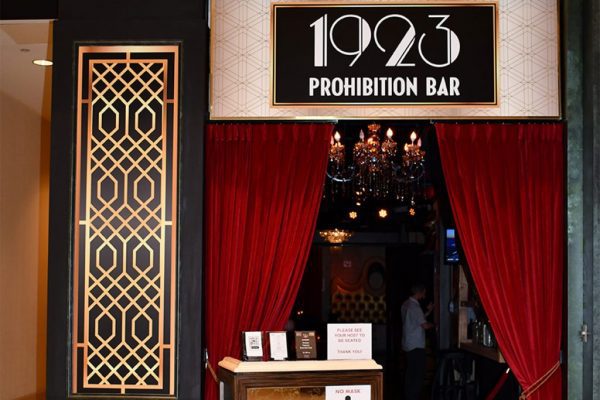 Also on the Strip, 1923 Prohibition Bar is a bourbon speakeasy that features the culture, music and style of the Roaring '20s inside Mandalay Bay. The door is right next to the minus5 bar, and easy to miss. Inside there's dark leather with fireplaces and comfy chairs. And just off the Strip, at the Virgin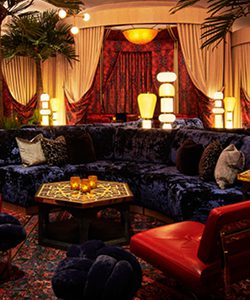 Hotel (formerly the Hard Rock Hotel) is the psychedelic '60s-themed Shag Room (pictured right)—which features a secret entrance, velvet-draped seating areas, and, of course, shag carpet. Sitting behind the resort's lobby bar through an entrance that's a photo booth you'll find a room filled with red and purple decor and purple shag carpet with a series of semi-private rooms with velvet curtains. The center of the room features a sunken conversation pit and there's frequently live entertainment—if you're lucky, it'll be the amazing Skye Dee Miles.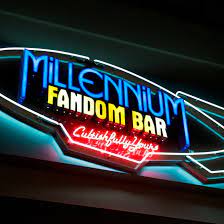 Not all speakeasies require passwords and not all speakeasies are hidden. There's quite a few in the downtown music scene, including the Downtown Cocktail Room, the Commonwealth, the Velveteen Rabbit and the Millennium Fandom Bar. Millennium Fandom is a cosplay haven for those who enjoy nerd culture, pop culture and any unique fandom. Complimentary board games are available every night of the week, and they offer karaoke, trivia and their famous themed cosplay nights. It has a very welcoming vibe and it's lots of fun—it truly feels like a home away from home for nerdy and geeky enthusiasts who enjoy dressing up.
This story originally appeared in the Sept./Oct. 2021 issue of Exhibit City News, p. 55. For original layout, visit https://issuu.com/exhibitcitynews/docs/ecn_sept-oct_2021