by Jeanne Brei
The Atlanta CVB recommends the Atlanta Movie Tours and GameX (with more than 60 state-of-the-art arcade games) for entertainment but I'm partial to palatial and historic grand theatres—and Atlanta is home to not just the "Fabulous Fox" Theatre but also the beautiful Tabernacle concert hall (originally a church built in 1910 which became a House of Blues during the 1996 Olympics and is now a LiveNation concert hall).
Theatre, concert and art lovers in Atlanta are blessed with world-class options—from the Alliance Theatre's Coca-Cola Stage at the Woodruff Arts Center (with its dazzingly beautiful, steam-bent oak) to the Atlanta Symphony Orchestra to the High Museum of Art but it's the grandeur of the Fox Theatre that I consider to be a must-see for visitors.
Influenced by the Alhambra in Spain and Egypt's Temple of Kharnak, The Fox was originally conceived as a home for Atlanta's Shriners organization in 1928. From its soaring domes, minarets and sweeping archways, to the stunning gold leaf details and exquisite trompe l'oeil art (which uses realistic imagery to create optical illusions) inside, it's easy to see how they spent $3 million in 1928 (equal to nearly $40 million today). The Fox opened on Christmas Day in 1929 to a sold-out crowd, premiering Steamboat Willie, Disney's first cartoon starring Mickey Mouse. Its striking red-carpet entryway and ornate gilt work, soaring turreted ceilings and stained glass windows, all leading to a vast cobalt "sky" with a sea of twinkling stars, is just not to be missed.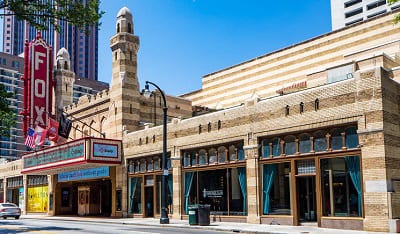 Today, the exotic-styled downtown landmark brings Atlanta the best in performance entertainment including Broadway shows, the Atlanta Ballet, Billboard's concert tours, and classic feature films. Travel back in time to 1929 as you ascend stone staircases, down steel freight elevators, and gaze up as "clouds" drift across an Arabian night sky to see why The Fox is #2 on Trip Advisor's list of Things To Do in Atlanta. If you're an interior design aficionado, a fan of globally-inspired architecture, or interested in historical buildings, take a guided hour-long tour through this magnificent theatre and see the world's second-largest theatre organ, Mighty Mo with its 3,622-pipes, as well as men's and women's lounge areas straight out of the Jazz Era.
Nominated for Theatre of the Year by Billboard and Pollstar magazines, and awarded the Outstanding Historic Theatre of the Year award in 2011 by the League of Historic American Theatres, the Fabulous Fox was most recently given the distinction by Rolling Stone magazine as one of "The Best Big Rooms in America." It consistently ranks in the top three theatres in North America for gross ticket sales.
The Fox Theatre, 660 Peachtree Street NE, Atlanta, GA 30308, (404) 881-2100, www.foxtheatre.org
This story originally appeared in the May/June issue of Exhibit City News, p. 83. For original layout, visit https://issuu.com/exhibitcitynews/docs/ecnflipbook_mayjune_2019_web