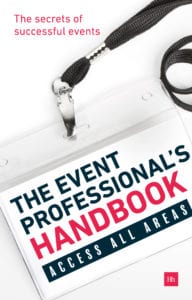 The Event Professional's Handbook, a collection of interviews, essays and insights from some of the event industry's most influential figures, is now available to download for free worldwide from all the major book retailers, including Amazon, Apple iBooks, Kobo, Scribd. Google Books and Play.
The book, created in partnership by The Experience is the Marketing and Citizen Event, features thoughts, ideas, experiences and future predictions from some of the most interesting thinkers and practitioners in the industry. Chapters include:
'Events: Creating Emotional Memorabilia, From Band to Brand' by Kevin Jackson, Director of Ideas and Innovation, The Experience is the Marketing
'There's Always Going to be the Human Need to Gather, and we Can Try to Create Another Understanding of it' by Debs Armstrong, CEO, Strong & Co
'The Magic Moments' by Chris Baréz Brown, Founder, Upping Your Elvis
'Events – The Real Social Media' by Simon Burton, CEO, Exposure Communications
'The Trade Show Market in Southeast Asia' by Mark Cochrane, Managing Director, Business Strategies Group, Regional Manager in Asia, UFI
'Why Events Are a More Effective Tool to Support Brands' by Nick de Bois, Chairman, UK Events Industry Board
'Work Hard, Play Hard and Be Kind' by Sean Doyle, Director of Brand and Creative, Clive
'The Impossible is the Possible in the Events Industry' by Tracy Halliwell, Director of Business Tourism and Major Events, London & Partners
'The Changing Face of Sponsorship' by Chris Hornbuckle, Founder, Sports Optimus
'Bums on Seats: The Art of Audience Acquisition' by Simon Hughes, Managing Partner, MCHA Ltd
'The Attendee Experience of the Future – Will you be Ready?' by Brian Ludwig, Senior Vice President, Cvent
'Producing Brilliant Experiences is a Balance Between Art and Science' by Jason Megson, Managing Director, George P. Johnson
'Sports Events' by Nigel Rushman, Founder, Rushmans
'Planning an Event like a Celebrity' by Jason Allan Scott, Premier Party Planner
'Experience is Bigger Than Just the Event' by Bonny Shapira, Leader, Cisco Live EMEA
'Technology May Facilitate and Enhance a Real Human Experience But Never Replace it' by Mark Smith, Marketing Director, GSMA
'The Art of Engagement' by Peter Wardell, Magician, Speaker and Founder of Unconventional Speakers
'Events Are Like a Chemical Reaction' by Björn Wigforss, Marcom Director for Events, Microsoft
Kevin Jackson, director of Ideas and Innovation, the Experience is the Marketing, said: "Our contributors have designed, created, promoted and attended a vast array of events, spanning the entire event industry. Their knowledge and experience is a powerful tool for any event professional, whether budding or established. The Event Professional's Handbook captures a glimpse 'behind-the-scenes' of how some of this industry's most influential people operate and we're very proud we can make this resource free for every event professional across the world."
To download the complimentary book from Amazon, visit http://www.eventprofessionalshandbook.com/ and click on the link. Alternatively, search for 'The Event Professionals Handbook' on Amazon or any other preferred book retailer.