(Pictured: Robert Maricich, chief executive officer of International Market Centers, talks to employees of Penta Building Group at Dec. 19 topping-off for Expo at World Market Center.)
By Ray Smith
Exhibit City News
When the behemoth World Market Center broke ground 16 years ago in Las Vegas, some of its competitors called it a "mirage in the desert," predicting it would never materialize, Robert Maricich recalls at a Dec. 19 topping-off ceremony for The Expo, a 315,000-square-foot exhibition hall that will expand the downtown WMC campus.
"Well, here's the mirage," the chairman and chief executive officer of International Market Centers says, pointing to the mesh of steel beams rising at the intersection of Interstate 15 and U.S. Highway 95.
Maricich has been watching construction progress on web cameras from his home in Atlanta, and says once the steel started going up, "it was boom, boom, boom."
The Expo, being built by Penta Building Group at an estimated cost of just over $100 million, is scheduled for completion in June, with its first show coming in July, Maricich says.
The facility offers exhibit, meeting and pre-function space in a vibrant and thriving world-class location, and can easily meet the needs of tradeshows, corporate events, large-scale productions and banquets.
Highlights include:
Parking garage with more than 3,000 spaces and another 1,200 spaces on surface parking lot.
Shuttle bus depot that can handle 30 buses at a time.
Dedicated loading docks (8 each for North and South Halls).
Easily accessible exhibit hall freight doors.
Grab-and-go food concession areas.
30-foot ceilings in most areas.
90-foot-by-90-foot column grid (center to center).
Close to 7,000 hotel rooms in downtown Las Vegas and more than 140,000 rooms on the Strip.
About 15-minute drive to McCarran International Airport.
Maricich had asked Las Vegas City Manager Scott Adams what he thought about the idea of a convention center at World Market Center, and Adams jokingly responded he liked the circus-like white tents that were previously set up on the grounds.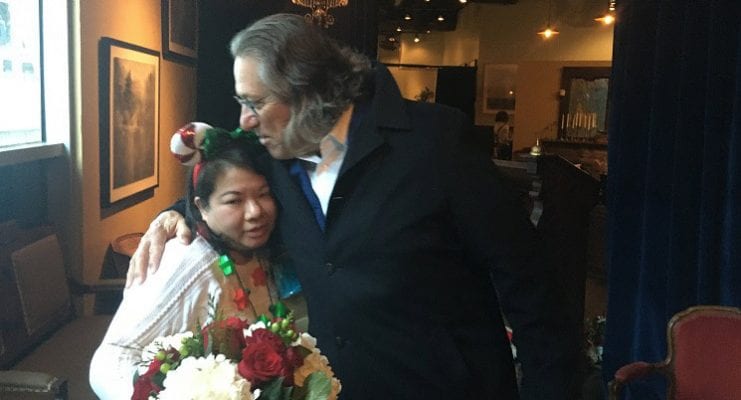 One of the reasons most convention centers aren't privately owned is because it's "hard to make it pencil," Maricich notes. It was through the help of the city and an investment by Blackstone Group that brought The Expo to reality.
Adams says the project will boost economic development in downtown Las Vegas, with a deal already in the works for a Marriott hotel across from The Expo on Grand Central Parkway. It will also bring new restaurants and hundreds of construction and permanent jobs.
"The City Council has supported this project every step of the way … tax increments, the financing system," Adams mentioned at the topping-off attended by about 50 workers, officials and media.
The Expo at World Market Center is committed to being as eco-friendly as possible. To reduce its carbon footprint, each mechanical unit has gone through an enhanced commissioning process to ensure the units meet as many LEED criteria as possible.
Prior to the ceremony, Maricich attended a Christmas party for IMC employees at Soul Café in the World Market Center. He was warmly greeted by several workers, one of them espousing about this being the best job of his career, which included a stint at FedEx.
"We've grown so much," Maricich says. "When we bought Las Vegas Market Center in 2011, there were probably 100 people in the company. We bought AmericasMart in Atlanta (in 2018) and added 200. Now we have over 500."