by Bob McGlincy
Once upon a time, a magic city appeared on a lakeshore, rising out of a swamp. It was temporary, and didn't last long … but for a brief flicker of time, millions of people from around the globe flocked to be there.
Part Mardi Gras, part Consumer Electronics Show, part Disney experience, it was the largest event of the nineteenth century. Impressive, exotic, and immense, covering nearly 700 acres, it showcased the world's newest ideas and technology. Newspaper reports from the day said it would take over three weeks and walking more than 150 miles, in order to see everything. This fantasy land was so large that it was known by several different names: "The World's Columbian Exposition" … "The White City" … and, as most know it today, "The 1893 Chicago World's Fair".
On May 1 of that year, President Grover Cleveland pressed a gold telegraph key, closing an electrical circuit, and energizing the Exposition. Slowly generators buzzed … engines whirred to life … swirling spotlights danced across roofs and bathed fountains in cascading colors … a hundred thousand incandescent lights flared and began illuminating the city… crowds stared silently awestruck … then they began cheering wildly. Nothing like it had ever been seen before in the history of the world!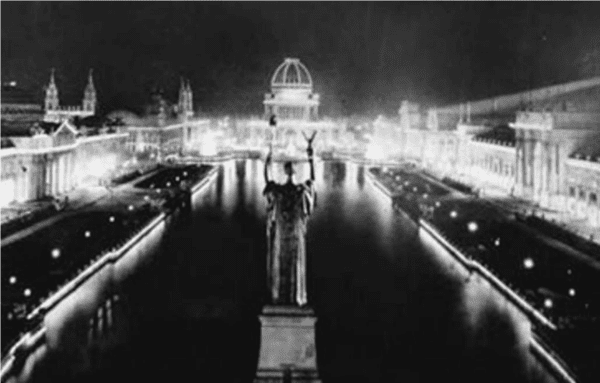 Initially proposed during the mid-1880's to commemorate the 400th anniversary of Columbus' arrival at the "new world", the show opened six and a half months late. But that was understandable, since approvals were delayed, and construction did not begin until the summer of 1891. New York City, Washington DC, St Louis, and Chicago clamored to hold the event: they all wanted to promote their cities, generate revenue, and boost real estate values. Chicago eventually won Congressional consent because they had the space, they had the money, and they had the railroads.
Building a Neo-Classical City. In eighteen months, 40,000 workers transformed the space, and constructed 200 buildings. Materials included: 75,000,000 board feet of lumber; 64,000,000 pounds of iron and steel; 30,000 tons of staff (staff was a mixture of plaster, cement, and hemp). Because of the short time constraints, the buildings were metal skins clothed with wood, covered with staff and painted white. They were designed to be temporary, and inside they looked like empty sheds.
Six miles from downtown Chicago was the entrance to the Fair. There, 61 acres of recovered swampland morphed into lagoons, ponds, waterways, and islands. Surrounding "The Grand Basin" were the main exhibit halls; they totaled 3,780,318 square feet of space (over a million square feet larger than today's McCormick Place). "Manufacturing" with 1,327,669 square feet, was the largest building in the world. Beyond the White City, the fairgrounds included pavilions from 46 countries and 34 states.
A Parade of People.
In 1893, Chicago was the second largest city in America, with a population of 1,099,850. In six months time, the Fair attracted 27,500,000 visitors.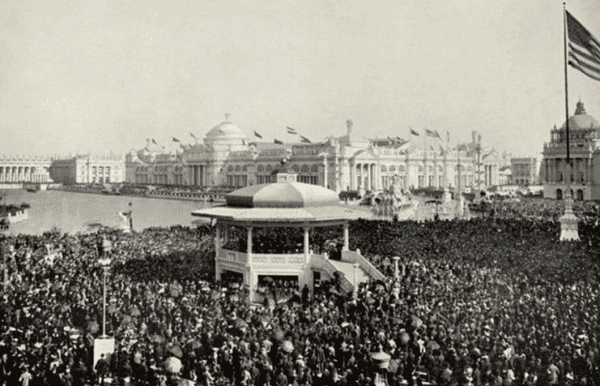 A partial list of dignitaries includes: Henry Adams; Jane Addams; Susan B. Anthony; Philip Armour; L Frank Baum; William Jennings Bryan; Buffalo Bill Cody; Alexander Graham Bell; Grover Cleveland; James J Corbett; Clarence Darrow; John Dewey; Elias Disney; Frederick Douglass; Theodore Dreiser; Anton Dvorak; Thomas Edison; Little Egypt; Archduke Franz Ferdinand; George Ferris; Marshall Field; Henry Ford; Carter Harrison; Milton Hershey; Harry Houdini; Scott Joplin; Helen Keller; Eadweard Muybridge; Annie Oakley; Ignacy Paderewski; Bertha Palmer; John Philip Sousa; Nikola Tesla; Louis Tiffany; Frederick Jackson Turner; George Westinghouse; Woodrow Wilson; and Frank Lloyd Wright.
It was truly a place to see and be seen.
A World of Firsts.
The Exposition was a place to network, to display products, to conduct business, and to have fun. It showcased original items, as well as some existing ones that became popular after the fair. Some of the "firsts" in 1893 included:
➢ First World's Fair building designed by a female architect.
➢ First practical electric automobile.
➢ First commercial movie theater.
➢ First automatic dishwasher.
➢ First electrical transit system in the US.
➢ First moving sidewalk.
➢ First Ferris Wheel.
➢ First indoor ice-skating rink.
➢ First World's Fair with a dedicated amusement area.
➢ First spray paint machine.
➢ First prototypes for the zipper, fluorescent lights, and aerosol sprays.
➢ First US coin bearing the portrait of a woman.
➢ First souvenir post cards, commemorative stamps, and squished pennies.
➢ First time event numbers surpassed 750,000 attendees in a single day.
➢ First time a single company's tradeshow promotional giveaways topped 1,000,000 items.
➢ Maybe the most important first, is the one most easily overlooked: it was the first demonstration to a national audience of the widespread potential of electricity; the show established the victory of Westinghouse's and Tesla's alternating current, over Edison's direct current.
Other items debuting at the Fair included: Cream of Wheat; Wrigley's Juicy Fruit; Quaker Oats; Shredded Wheat; Aunt Jemima pancake mix; Cracker Jack; Vienna sausage; diet soda. Items at the fair existing before, and becoming popular afterwards: Pabst (won the Blue Ribbon for beers); hamburgers; peanut butter; carbonated beverages; and brownies. It is believed that the writing of "America the Beautiful" and "The Wizard of Oz" were both influenced by the Fair, as were the ideas behind Disneyland and Epcot Center. Milton Hershey was said to be inspired by the fountains of flowing chocolate from Europe.
Displays.
There were over 65,000 exhibits at the Exposition, displaying over a million individual pieces. Countries, and some companies, had their own pavillions. Edison spent over a half million dollars on his displays (equivalent to $16.3 million today). Westinghouse, General Electric, Bell Telephone, Western Electric and HJ Heinz had multiple exhibit areas. Tiffany, and Krupp, had their own pavilions. There was an art museum housing over 10,000 pieces of art, an aquarium, and the world's largest selection of wine.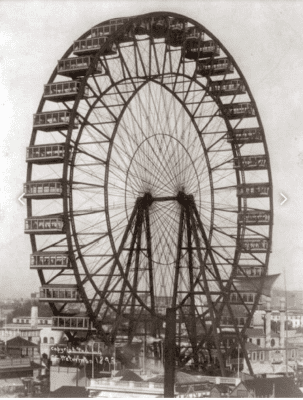 Not including the buildings, some of the largest items at the Fair included: the Ferris wheel (weighing 1,433 tons — without people!); Krupp's cannon (44' long, weighing 122 tons, with a recordsetting firing range of 15 miles); the Yerkes telescope (61' long, weighing 75 tons); and an eleven ton/22,000-pound wheel of Wisconsin cheese. Other unique items attracting crowds included: Edison's 150-foot light tower; a clock tower 120 feet high; 16,000 varieties of orchids; a tower of 14,000 oranges; diamonds, ostriches, Egyptian cigarettes; and William Morrison's electric vehicle (which had speeds up to 20 mph, and a range of 50 miles).
Why did companies exhibit? Because it made dollars and sense to do so. Consider one example: Thousands a day paid ten cents each to watch glass blowing demonstrations from a small, Toledo Ohio company. The admission price could be applied towards purchases, which most people did. The company was Libbey Glass, and 125 yers later, they had revenue of $797.9 million. Trade shows work!
The Midway was the moneymaker of the Fair. Located "on the other side of the tracks" from the White City, it offered rides, food, entertainment, and a glimpse into other cultures. Attractions included: villages from around the world; Hagenbeck's zoo; an ice-skating rink; a tethered 1,500-foot hot air balloon ride; a movie theater; an ice-railway/toboggan slide; the "World Congress of Beauty"; the "wild man of Borneo"; and a belly dancer called "Little Egypt".
The centerpiece of the show was George Ferris' original "Great Wheel". It stood 265 feet high and had 36 cars, each one the size of a bus, 27' x 13' x 9'. Fully loaded, the Wheel rotated 2,160 people up 25 stories into the sky, for an unforgettable view of the fairgrounds and the city of Chicago.
A Lasting Legacy.
The 1893 Fair was one of the most impressive in history; it demonstrated the enormous power of expositions; and its influence impacted many areas of life.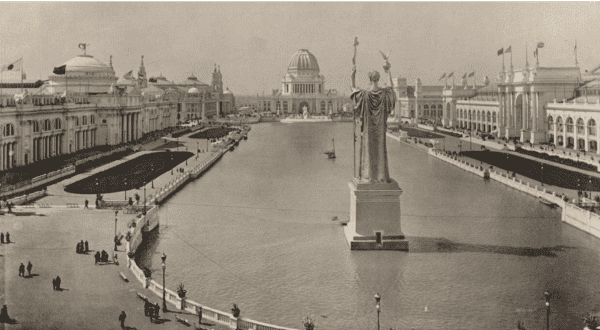 Architecturally, it triggered the "City Beautification" rebuilding movement in Chicago, and spurred the Beaux Arts and Classical revival in other parts of the country. Culturally, it displayed life styles from around the globe; the Women's Pavilion recognized achievements of women, and sped the movement towards emancipation. Scientifically, there was a wealth of inventions and products; the World's Congress Auxiliary showcased experts, and published over 6,000 articles. From a business standpoint, the Fair attracted the largest number of countries and exhibitors of any event in a century; it provided a space for international networking, and for closing business deals. The Fair made a significant profit (despite the Panic of 1893 and the ensuing depression). It fostered international cooperation and promoted recognition of the United States as a potential world power. Most of all, the 1893 Chicago World's Fair sparked the electrification of America, and propelled the country into the future.