by Tristin Vaccaro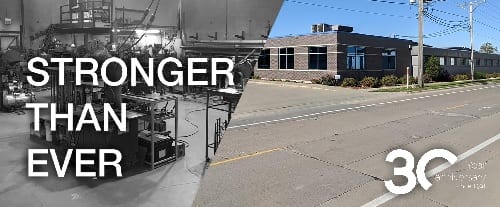 We all know the story all too well: In the last 15 months, tradeshows and events were canceled or postponed and the industry came to a screeching halt. This story is usually told through a lens of loss and, at times, hopelessness. For Trussworks though, the story is different.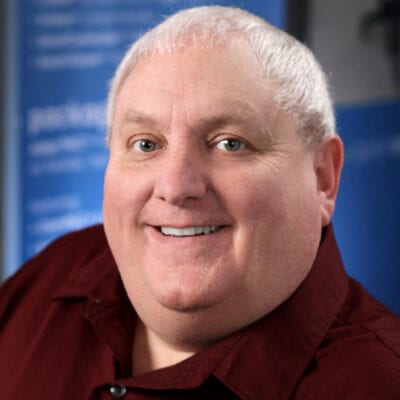 Trussworks has provided steel truss systems for the live event industry for 30 years. When the lockdowns first started, Trussworks knew that they would need to pivot, and quickly, to endure. "In the beginning, we, along with everyone else, thought COVID-19 would only be around for a couple of weeks," says Trussworks' President Steve Hess (pictured right). "When we realized it would be much longer, we wondered what we could do to think outside the box and remain profitable." Everyone was in uncharted waters, and it was time to either sink or swim.
After doing a quick inventory of the materials they already had and evaluating the rising demand for products that prevented the spread of the virus, Trussworks had their answer. Acting quickly, Hess began by sketching a hand sanitizer dispenser stand. Within just a few days, the stand went from a design on a page to a completed prototype. In less than two weeks after that, the product was ready to go to market. By utilizing their existing stock of steel and leveraging existing relationships with suppliers to source dispensers, Trussworks was able to manufacture large quantities of the stands in a short amount of time. With supply lines secured and materials sourced when others could not, Trussworks was ready to roll out their new product line. Well, not quite.
A new product meant selling to a new market. Trussworks' couldn't rely on tradeshow dealers to bring thousands of dispenser-stands to the right customer base. "We knew who the buyers were, we just needed to figure out a way to get in front of them," says Hess. Again pivoting, Trussworks took their product to janitorial supply companies and educational suppliers, those who already had the ear of the buyers, to get the product sold. Making these new connections required many hours on the phone and constant emails with an entirely new audience that was unfamiliar to Trussworks and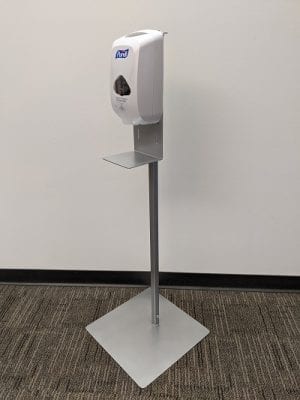 vice versa. Hess described the process as, "basically starting at sales ground zero. Getting them to believe in us and our product since they never heard of us before." It's important to note, these weren't dealers that were looking to fulfill single orders or even orders of eight to ten. These dealers wanted to buy hundreds or, in several cases, thousands at a time. Once dealers heard Trussworks was able to commit to supplying these kinds of quantities and could deliver, the sales started to roll in. In the end, Trussworks manufactured and sold more than  15,000 sanitizer stands.
With the success of the sanitizer dispenser stands, Trussworks was able to remain on the stable ground they had been building upon before the pandemic. Instead of focusing on how to stay alive, they were able to continue their growth and acquisition strategy. Perhaps the most exciting? Trussworks is proud to announce they are the exclusive distributor of Prism Lighting Solutions in the U.S. Their lighting solutions range from industry-leading flexible strip lighting to award-winning arm lights, lightbox modules and DMX special effects lighting. "There are even new products that we developed during the pandemic that we haven't even announced yet," teases Hess.
To further their growth strategy and supplement these product line additions, Trussworks added two new staff members. Roman Moszkowicz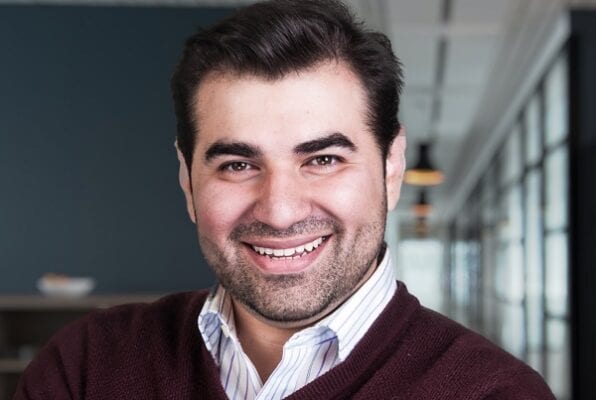 (pictured left) was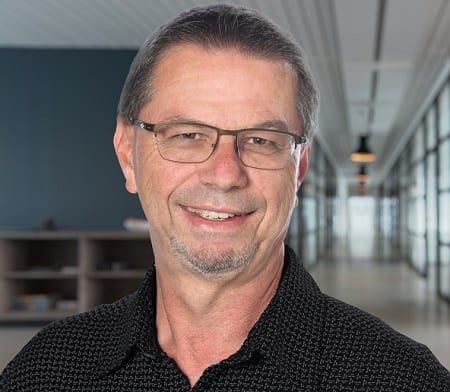 hired to lead the brand-new Lighting Solutions Division and Joe Guerrero (pictured right) was brought on as national sales manager. During the pandemic, while others experienced layoffs and closures, Trussworks was able to grow their team by 50 percent and they are looking to add more. Not only that, but they are looking to expand to a new facility within the year.
Trussworks is proud to celebrate these newfound successes, especially during such a challenging time for the events industry, but it was not without challenges and hard work. Hess continues to work seven days a week to improve and grow the industry he loves. He credited Trussworks' success on their ability to act quickly, invest strategically and trust their gut. When asked what advice he would give to other businesses if a similar situation were to ever happen again, Hess offers, "Use every minute of every day moving forward. Those who sit around waiting for things to happen will still be sitting there while those who take action blow past them." When all is said and done, Hess truly believes the entire experience made Trussworks a better company.
"I'd like to think we had a 'secret sauce' for coming out of the pandemic stronger and more vibrant than when we went in," says Hess. As for what exactly that "secret sauce" is, Hess won't tell. It's probably a combination of willingness to adapt, mixed with strategic acquisitions, a lot of teamwork and possibly even a dash of luck. It's hard to know for sure, but it's the secret sauce that will continue to propel Trussworks forward.
Since 1991, Trussworks has produced high-quality steel truss systems for the display industry. Their systems are known for their superior strength, ease and speed of assembly, and of course, clean and stylish looks. Over the years, they have added several product lines to their traditional systems. Every system they design adheres to the four principles which embodied their first product lines. For more info, visit trussworks.com.
 Tristin Vaccaro is an experienced copywriter, marketer and sales executive with experience in the live event and security industry. She has recently launched her own freelance copywriting firm and can be reached at tristin.vaccaro@gmail.com.