During a past trip to Houston, Texas, I witnessed George R. Brown Convention Center (GRBCC) Director of Operations David Osterhout proudly proclaim "Flexibility is our theme." The venue has been operating by this code ever since it opened in September 1987.

This theme is currently seen in the ongoing expansion taking place across the downtown Houston Convention Center District, in which the 1,600 foot-long GRBCC holds a prominent position across multiple blocks. The area comprising the convention center is longer than the football fields of NRG Stadium, the Astrodome, TDECU Stadium and Rice Stadium combined.
In time for summer 2016, convention attendees and exhibitors will have more onsite restaurant and retail options. Additionally, a new grand entrance will be constructed at GRBCC. Also scheduled for completion during this time is a 1,900-space parking garage and office building. Both structures will be connected with GRBCC via a new skyway on the venue's north end. This transformation of GRBCC is estimated to cost $175 million.
To be completed in fall 2016, a second interconnected convention hotel, the Marriott Marquis Houston, will be added to the venue at a cost of $350 million. The covered skyway between the two facilities will allow attendees to escape the ever-changing elements. Marriott Marquis Houston will complement GRBCC's other convention hotel, the Hilton Americas-Houston, which is connected to the venue on two floors.
Even before the latest round of renovations and expansions, GRBCC has operated with flexibility in mind. All exhibitor utilities are fed from floor boxes, which speeds show installation. The look of the show is enhanced with no-wires coming from overhead, according to Osterhout.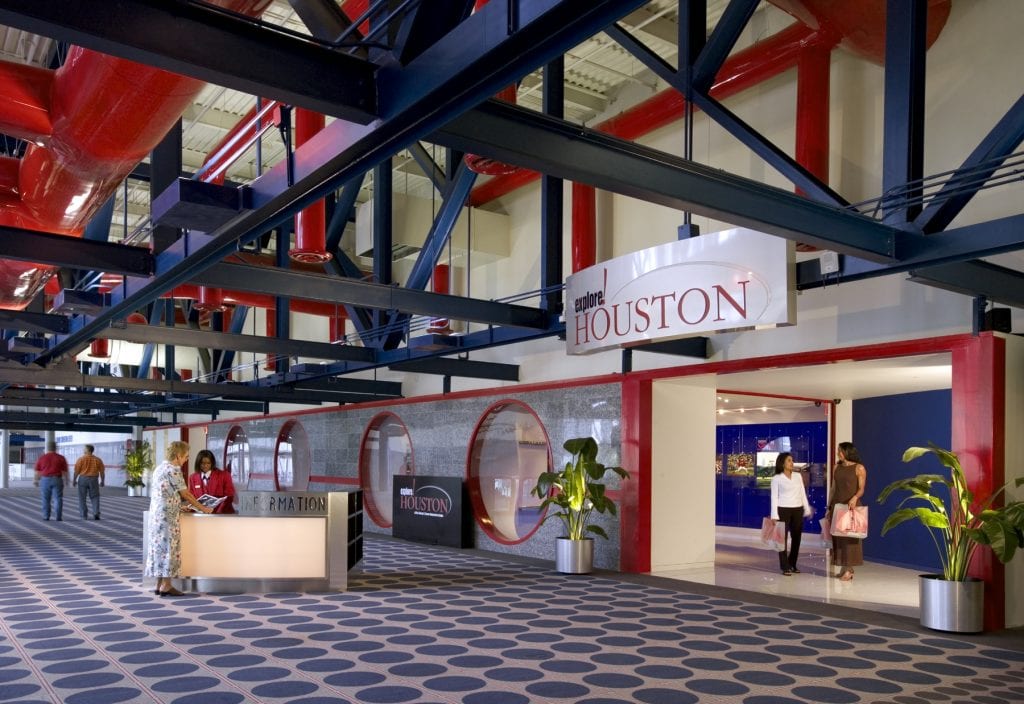 Additionally trailers can be driven into the exhibition halls, eliminating the need to move exhibit material via freight elevators. GRBCC's exhibition halls also include high-output energy-efficient lighting and large smoke exhaust fans, which came in handy a few years ago during a Cigar tradeshow.
A tunnel system below the exhibit hall floors allows additional power or fiber to be pulled into any floor box in the building.  Smart City Networks provides all the utility and data service for the venue using the tunnel system.  According to Osterhout, most convention centers don't have this kind of tunnel system because of the high price tag to build.
Because of GRBCC's Internet capabilities, it delivers free Wi-Fi to all public areas and can expand coverage when needed.
Another GRBCC partner, Aramark has been the in-house caterer for nearly 20 years. The company's staff works out of a modern, updated kitchen that features steam convection ovens from Germany, energy-saving equipment and coolers the size of three semi-trailers.
Other GRBCC partners include Freeman AV and Midwest Maintenance Services Inc.
When leaving the show floor and readying to head back to their original destination, convention attendees can stop by the onsite gift shop to print their boarding passes if they hadn't done so already.
The venue, which is owned by the City of Houston and managed by Houston First Corp., is surrounded by many enjoyable facilities and spaces that may persuade guests to stay even longer in Houston. This includes the 12-acre Discovery Green Park, Toyota Center, Minute Maid Park, Bayou Place and The Shops at Houston Center.
---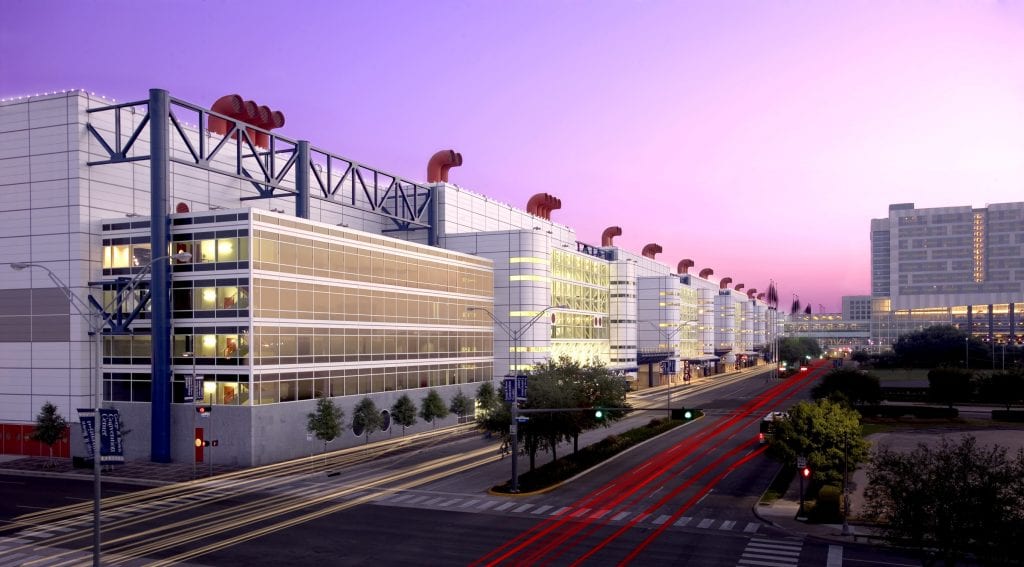 Location:
Houston, Texas
Year opened:
1987
Original square footage:
451,000 sq. ft. of exhibition space
Current square footage:
893,590 sq. ft. of exhibition space (1.2 million sq. ft. of exhibition, meeting and registration space combined)
Origin of name:
Named after George R. Brown, a Houstonian, entrepreneur, civic leader and philanthropist
Largest show to date:
International Quilt Market/International Quilt Festival with an average 60,000 attendees annually
Fun Fact:
The building features more than 60,000 yards of carpet or enough to cover the floors in about 300 average-size homes.
---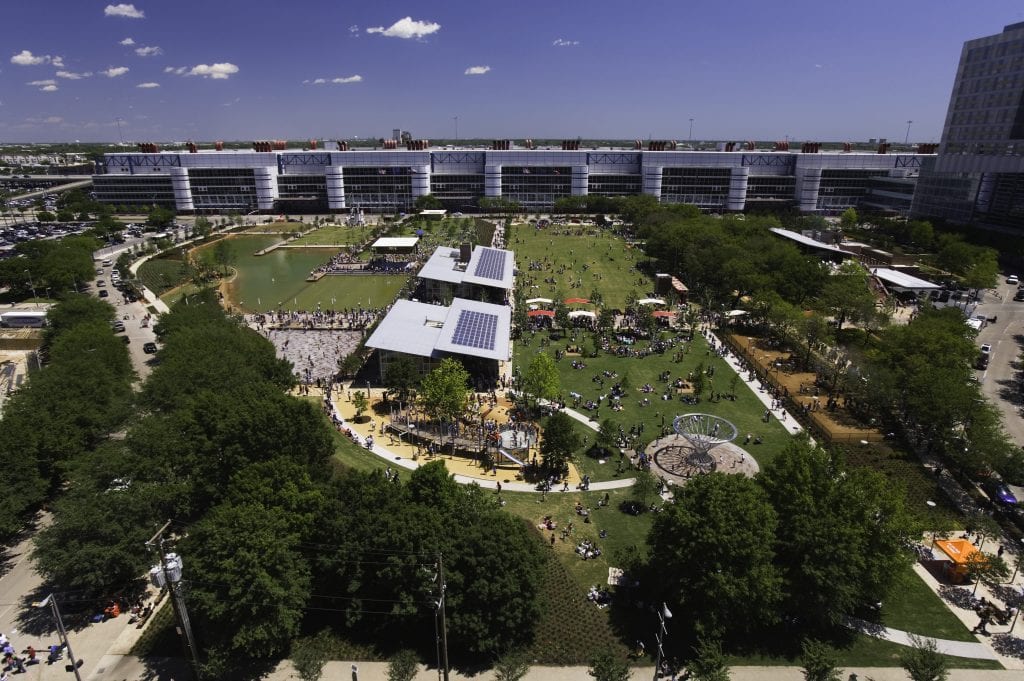 EAT
The best eateries are always packed! The same could be said for The Breakfast Klub in Midtown Houston. Individuals from all walks of life and at different levels of their career head to the Southern cuisine breakfast spot, which is known for its signature chicken and waffles. Casual wear is welcomed, but interested convention attendees should be prepared for a wait in line to try other favorite dishes, such as the green eggs and ham –Dr. Seuss anyone?
SLEEP
Other than the Hilton Americas-Houston, downtown Houston has many other hotel options. On 18 acres of land lies the 175,000 square-foot Houstonian Hotel in downtown Houston. While the venue is not as close as the official convention hotel, it has a storied past that may intrigue those who closely follow politics. Some of the hotel's most famous residents included President George H.W. Bush, his wife, Barbara, and their Secret Service detail. They all lived there from 1981-1992. It's no secret that the Bush family has roots in Texas, but not everyone knows they previously lived in the space that is now the hotel's restaurant. History aside, the property also provides many amenities to keep guests active. This includes a rock climbing wall, a boxing ring, tennis courts, fitness centers and group exercise classes.
CRUISE
Outdoorsy types may rejoice upon learning about Buffalo Bayou Boat Cruises. A quick escape from city life, these boat cruises provide option for winding down after spending hours in the midst of the flurry of activity on the show floor. Passengers just need to choose their mode of travel – a kayak, canoe or a pontoon boat. Either way, cruisers will get to see area's wildlife, such as alligators, jumping fish and bats.