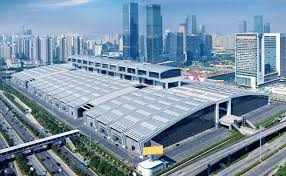 Officials for the Shenzhen World Exhibition & Convention Center in China have named SMG as the venue's new manager, which will bring the firm's venue management portfolio to more than 15 million square feet of exhibition space worldwide. Shenzhen World is currently under construction with an expected completion date of the first quarter of 2019, and, when it opens, the facility will be among the largest exhibition venues in the world.
Under construction is 4.3 million square feet of exhibition space and another half million square feet of meeting space, making Shenzhen World approximately twice the size of Chicago's McCormick Place. Officials say that the center, which is located near the Shenzhen International Airport, will anchor a much larger complex that will include restaurants, hotels, shopping, and entertainment options.
The facility is being built by China Merchants Shekou Holdings and OCT Group – companies that partnered to win the bid from the Shenzhen Municipal Government. Xu Chongguang, deputy secretary general of the Shenzhen municipality, said they intend for the project to place the region's exhibition industry on a global stage. "Shenzhen World is a very significant project for the Shenzhen government, and we have every confidence in CMSK and OCT to build and operate the venue," he said. "We hope that by leveraging the international experience and expertise of SMG, the venue can achieve a world-class standard with wide exposure."
SMG manages more than 230 venues, including exhibition centers, arenas, stadiums, theaters, equestrian centers, science centers, and more. Within the SMG portfolio are 1.5 million sports and entertainment seats and 15 million square feet of exhibition space, including McCormick Place and Cobo Center in Detroit.