Licensing Expo 2015, the world's largest licensing industry event, experienced its most successful edition to date, according to show organizer, UBM Advanstar.
Over the three-day Expo in early June — 16,150 licensing professionals attended the show, representing a 3 percent increase from last year's event. This figure includes a 6.6 percent uptick in international attendance with one in three attendees coming from outside the U.S. The countries with the greatest number of attendees were Canada, Japan, Mexico and the U.K. with significant increases from Australia (+31 percent), Brazil (+30 percent) and China (+12 percent).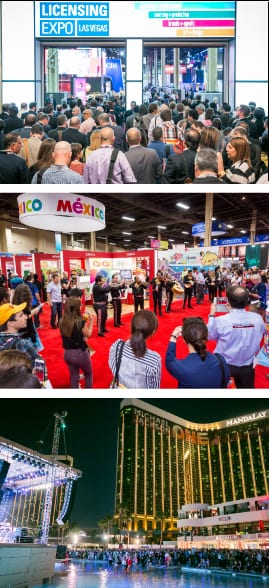 The show, sponsored by the International Licensing Industry Merchandisers' Association (LIMA), featured 460 exhibiting companies in 232,000 square feet, an increase of 6.5 percent on 2014. More retailers attended than ever before, up 15 percent, which was noted by many exhibitors. This year's Expo concluded on a strong note with over 70 percent of the 2015 floor space re-booked for 2016, which is testament to the success of the three-day event.
Highlights from Licensing Expo 2015 included more than 150 new exhibitors; The Opening Keynote featuring executives from Hot Topic, Toys"R"Us Inc, Delivery Agent and Global Brands Group.; The Opening Night Party co-hosted by Sony Music that presented Fifth Harmony as special guest performer and was sponsored by Endemol Shine North America and LIMA; the inaugural Digital Media Licensing Summit; The Big Interview with fashion designer and influencer Bethany Mota; International Day and live stunts performed by Nitro Circus.
Press attendance at the Expo increased by 27 percent with 152 journalists in attendance covering exhibitor news and events live from the show floor in 2015. Media highlights included The Wall Street Journal, ABC, Fox News (local and national), Telemundo, Reuters, The Las Vegas Review-Journal, AdvertisingAge, Top Gear and Yahoo Autos, among others.
Jessica Blue, vice president, Licensing Expo, "We are delighted that the focus on attracting more retail buyers and executives has meant a significant increase in attendance for the second year. We received positive feedback from exhibitors on both this and the increase in international attendance across all product categories."
Licensing Expo 2016 takes place June 21-23, 2016 at the Mandalay Bay Convention Center in Las Vegas. For more information about the 2016 Expo including upcoming events and highlights, please visit http://www.licensingexpo.com/